Saijo no Osewa ~ Takane no Hana [LN] - V2 Chp 1 part 5
8:00 p.m. 
After Tennouji-san's class was over, I drove back to the Konohana family mansion in the car provided.
[I'm back]
[Good work, Itsuki-san]
Upon entering the mansion, I immediately met Shizune-san.
[I think I'll be arriving at the mansion at this time for a while]
[I understand. May I ask what you learned, to be sure?]
[Yes]
As I walked to my room, I explained what Tennouji-san taught me.
[―It's like that] 
[I see. …I should thank Tennouji-sama again next time. From what I've heard, she's been teaching quite seriously]
[…That's right]
That was something I realized as well.
Tennouji-san said she was having a good time as well, but if viewed from the outside, no matter how I look at it, I'm unilaterally benefitting from it. I will have to thank her once again.
[But why did you make learning table etiquette a priority?]
[Ahh, about that…]
It's a little embarrassing, but I would be happy to tell Shizune-san. 
I explained my intentions. 
[Is that what you meant?]
Shizune-san nodded in agreement.
[I'm glad to see that you haven't forgotten your role as caretaker]
[Well… That was the reason why I'm learning so much from Tennouji-san]
When I said this, Shizune-san smiled with satisfaction.
[Then, Ojou-sama wants to see Itsuki-san, so please head over as soon as possible]
[Eh, are there no self-defense lessons?]
[Once the dance lessons start, you will be physically exhausted. With future plans in mind, let's temporarily lower the priority on self-defense]
After discussing with Tennouji-san, the dance lessons were scheduled to begin roughly a week from now. Since we couldn't have dance lessons in a quirky cafe, we needed to arrange a venue first. Since we haven't made those arrangements, we didn't have any today.
[Besides, the dojo is often occupied these days]
[Used?]
When I asked her back, Shizune-san gave me a complicated look.
[When you beat up the Konohana family guards before, it seems that their pride was severely hurt. …Since then, more and more of them have been training at the dojo]
[…Somehow, I'm sorry]
[It wasn't Itsuki-san's fault. Rather, it was a good medicine for them]
Shizune-san said with a sigh.
[If Itsuki-san intends to become a bodyguard for the Konohana family in the future, I would start self-defense lessons right now but… do you want that?]
[…I have no such plans at the moment, so I'll pass]
[Is that so. That's a shame]
Is it really a shame…?
Shizune-san is a person who I have a hard time understanding when she is joking and being serious, but I thought it sounded more genuine than it seemed.
Is that…ok?
Is such a life plan possible?
♢♢♢
After I bathed Hinako, I went back to my room to prepare for tomorrow.
[As expected, my head seems tired from all the things today]
I placed my pen on the notebook and stretched lightly.
The time is now 11:00 p.m. Today's been mostly filled with studying.
[…No, it's times like these where I must push through]
I grabbed my pen again and flipped the pages of my notebook. Tennouji-san just praised me for my study routine. Let's keep our heads up and do our best.
I sometimes think that I've become a very hard worker.
Everyone I met at Kiou Academy is of a high level. Seeing them, I had made it a habit to study every day. At first, I just studied as Shizune-san told me, but now I do it on my own accord. Shizune-san may have noticed this, and recently, she no longer tells me to [Study in advance] or [Review every day].
I've never made such a serious effort before. Previously I felt like I was just going to high school for nothing; not for anyone, not even for me.
[Those guys… I wonder what they're up to]
I remember the relationships I had before I became a caretaker.
I felt as though I would like to meet and talk again once things calm down. (EDN: Flag?)(TN: oh you know it)
At that moment, a knock came at my door.
[It's open]
The door opened, and it revealed Hinako behind it.
[Eh… Hinako?]
[Nn]
I was astonished by Hinako who made a small voice.
[You came here all by yourself? You didn't get lost?]
[Muu… rude. This is still my house]
No, no, you can't say that.
Never forget. This girl, even in the academy, will get lost if left alone.
[Itsuki's room, farther than I thought. …It took me about 30 minutes from my room]
[It's not that far…]
Are you exploring a dungeon?
[…What are you doing?]
[It's preparation for tomorrow's exam. Tennouji-san has been teaching me a lot of things, but that's just basic preparation for it. I have to do my best to keep up with the class]
Having finished the material at the end of the page, I turn around and look at Hinako.
[What are you doing?]
[…Nothing]
[? Then why did you come here?]
When I asked her this, Hinako pouted a little.
[…Can I not come here unless I have something to do?]
[No, not really but…]
It's not that she can't, it's just hard to deal with.
Since she didn't seem to have anything to do, I kept on studying with Hinako in mind.
[Muu….]
As I silently did my questions, Hinako made a dissatisfied noise.
Then she slipped and rolled into my bed. 
[…I'm going to sleep here today]
[Eh?]
[I'm sleeping here]
She told me in a slightly stronger tone. 
[The dining room is a long way from my room, so you'll have trouble tomorrow morning. If you want to sleep, it's better to go back to your room…]
[Noo~]
She was already almost asleep.
I chuckled at Hinako's fluttering eyes.
[Itsuki…]
[Nn?]
[…Come here]
[…Yes yes]
I stopped my studying and headed towards Hinako.
[…Pat]
Hinako said, squinting sleepily.
[When we were at the party, you didn't like it when I patted your head. Is it fine now?]
[…I didn't mean to do that]
Hinako rolled over and turned her back to me.
[I… have been acting weird lately]
[Weird… are you feeling sick?]
[Muuu….]
When I called out to her in concern, she instead puffed her cheeks.
That meant she was still okay.
When I slowly stroked her head, Hinako's body jerked, but then quickly calmed down and accepted it. This was something I hadn't seen til recently. I was told she didn't hate it, but I'm still worried.
[…I'm getting sleepy too]
I sat down on the floor and muttered to myself as I stroked Hinako's head.
[…Sleep now?]
[No, I have to carry Hinako to her room first…]
And while saying something like that, I started to feel really sleepy.
I've been using my head all day, so my brain must be tired.
Before I knew it, I was fast asleep and――
[…Itsuki?]
The hand patting Hinako's head stopped and she quietly brought herself up.
Itsuki was sleeping quietly on the side of his bed.
Hinako got up as quietly as she could and observed the situation.
[…I think this is the first time I've seen his sleeping face]
Due to the fatigue from her daily acting, Hinako sleeps whenever she gets the chance. Therefore, while others may have seen her sleeping face, she rarely has the time to do the same.
[Were you tired..?]
Thinking back, Itsuki looked sleepier than usual at his desk today.
She knew how it feels to want to sleep when you're tired and so, Hinako decided to leave Itsuki asleep like that.
She then looked at the study materials open on his desk.
Hinako glanced at the notebook filled with mathematical formulas, and suddenly saw something.
[This… is the caretaker's manual?]
She picked up the thick book and flipped through the pages.
Originally, there was no such thing as a manual for them. However, because of the rapid change of staff, it took a lot of time and effort to verbally explain the work, and this is how the manual originated.
The manual had sticky notes and highlights on the areas that were important.
Looking at the page with a lot of sticky notes, there were several brands of Hinako's favorite ice cream. Next to them were written [Buy it when you can, and keep it in the freezer in your room!] boldly. 
She felt an ache in her heart.
The pain subsided right as someone entered the room
[Ojou-sama?]
Shizune stepped towards her with a curious look on her face.
[The door was open, and I was curious as to why…]
[…Shhh]
Hinako raised her index finger in front of her lips and looked at the sleeping Itsuki.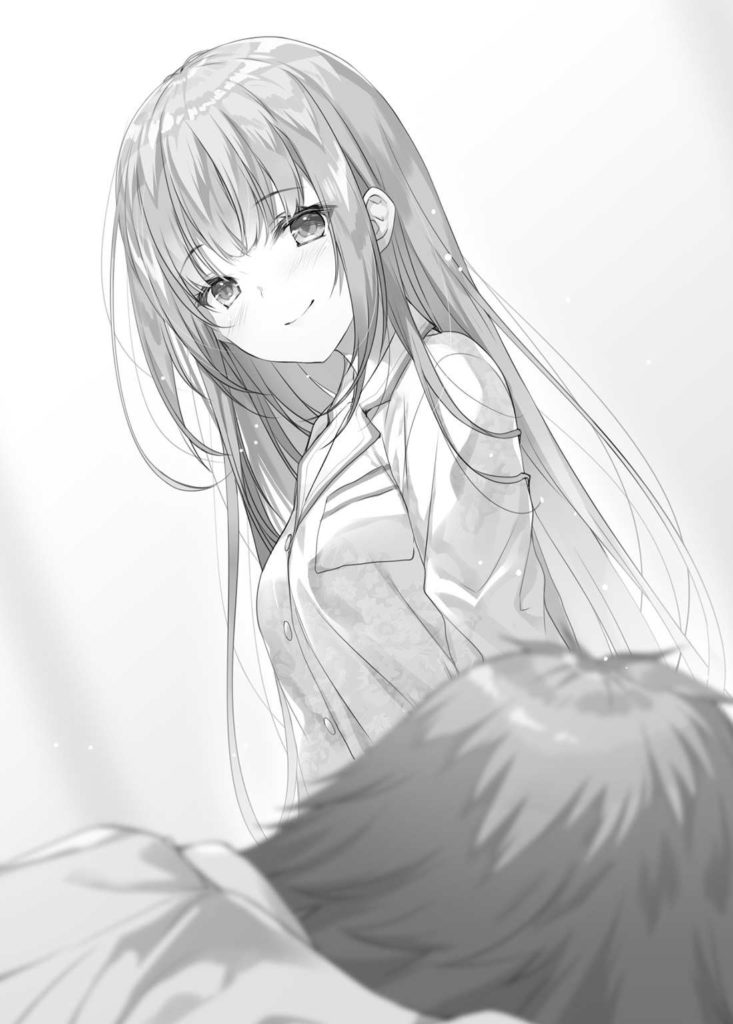 Shizune then realized the situation.
[Goodness. You're not fit to be a caretaker if you sleep before Ojou-sama]
Although Shizune said that, her expression wasn't angry.
Perhaps Shizune also recognized Itsuki's recent efforts.
Basically, Itsuki is serious. Even if Shizune doesn't say anything, he will naturally reflect on it when he wakes up.
[Ojou-sama. If you'd like, I can show you to your room]
[…Nn]
Hinako nodded and left the room with Shizune.
[Shizune]
[Yes?]
[I… changed]
Hinako said, as if muttering.
[I'm happy that Itsuki is taking care of me, but… I sometimes feel bad when I think that he's taking care of me]
[…Feel bad, is it?]
Not long ago, she would've suspected that something was wrong with Itsuki, but not anymore. They've been working together for more than a month and Shizune knew very well that Itsuki was a sincere person.
[Are you dissatisfied with Itsuki-san being your caretaker?]
[…That's not it]
Hinako shook her head. However, her expression was uneasy.
Reaching the front of Hinako's room, Shizune opened the door. Hinako slowly entered.
[It's not it, but… it feels lacking]
Saying this, Hinako sank her body into her bed.
Placing her arms over her eyelids, Hinako vented out her worries.
[Is it because of his job that… Itsuki listens to me…?]
Hearing those words, Shizune finally understood the true feelings of Hinako's anxiety.
She can't help but smile, but tried to hold back on making any expressions.
[Rest assured]
In a gentle tone of voice, Shizune said.
[Itsuki-san doesn't listen to you just because of his job, Ojou-sama]
[…Really?]
[Yes. If you just wait a little longer, I think you'll be able to see that]
Originally, Itsuki took on this job simply because he had no money.
But if it was simply about money, he wouldn't have wanted to protest against Keigon and become a caretaker again.
Whatever the past was, the current Itsuki is different. Now, Itsuki is a caretaker who feels a greater obligation towards Hinako than his job. 
Hinako doesn't realize that.
That's something that's easy to figure out when you spend time thinking about it.
[However, this is the first time, isn't it? I can't believe Ojou-sama is asking me for personal advice like this]
[…Is that true?]
[Yes]
[Nn?] Hinako recalls her past while tilting her head.
Shizune smiled when she saw this. A feeling akin to watching her daughter grow up  came over her.
[…I shouldn't do that]
She doesn't intend to be a mother yet.
After putting the bed sheet over Hinako, who slept before she knew it, Shizune left the room.
---
Back with more parts, then I'll be gone for a bit due to my mountain trip. Honest opinion, hella stoked :poggies: Anyways hope you enjoyed that one, more after I get back. Also school be hectic cuz they decided to get the exams faster soooo yeah
Donations are very much appreciated.
TL: Ezu
ED: Animu
PR: Mateo
Comments for chapter "V2 Chp 1 part 5"
NOVEL DISCUSSION