A Reincarnation Romantic Comedy Of A Hero And A Witch - Volume 1 Chapter 1 Part 3
No, no, no. There's no way that's the case, right?
"Someone might hear us if we stay here. Let's move."
The area around us was enveloped with silence, probably because class had already started. Since the restroom was close to the classroom, we could hear the teacher's voice from inside the classroom, but that also meant that our voices could be heard from inside the classroom. If we didn't move elsewhere soon, someone might find us loitering here.
"Then… Let's go to the rest area in front of the club building."
I thought of a suitable place, then I turned my back on her. Suddenly, I felt a sharp killing intent coming from my back.
I turned around reflexively.
With a huff, the witch bent her knees, kicked the floor as she propelled her body towards me. With blinding speed, she thrusted the tip of her staff at my throat.
Her movements were so quick that the only thing I could do was to follow her movements with my eyes.
The witch narrowed her sharp gaze, the slight action made me break out in a cold sweat.
"…Just as I thought, you have lost the power of your previous life. The previous you would have easily dodged this, no matter how much magic I've used to enhance my body."
The witch's words were true.
Clearly, the me right now was way weaker than back in my previous life.
"…The human body in this world is weak. Replicating the feats that I did back in my previous life is impossible with this body."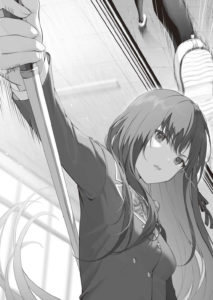 I shrugged my shoulders.
The people who lived in the other world were much stronger than the people who lived in this world.
Or should I say, the people in the other world were built different.
There weren't many differences between the physical ability of untrained people in either world, but this changed when said people trained their bodies. The warriors from the other world could do feats that no human in this world would be able to replicate. For example, back then I could close the distance of a hundred meters in less than five seconds, I could jump as high as ten meters easily, I could slash a boulder clean with my sword and could easily crush the toughest steel with my fists.
Of course, my feats were extraordinary even back in the other world, they called me 'the world's strongest hero' after all. But still, back then I was also a human. My feats were proof that the human body back in the other world had that much potential.
Everything was different now though. Currently, I only have the strength of an ordinary high school student.
"…Right. Well, I was just trying to confirm my guess, so don't be afraid of me."
"You sure you weren't trying to kill me?"
 
I complained to the witch as she pulled her staff back. I felt relieved at her action, but it still left me with a bitter taste.
"Shall we move to somewhere less crowded, then?"
The witch crossed her arms as if to say, 'Lead the way,' so I had no choice but to obey her. I couldn't afford to get myself killed for defying her.
"…"
As I walked, I thought of something.
The difference in the physical abilities of people in the other world and in this world was surely strange.
Ever since I started to remember the memories of my previous life, I had been trying to see whether I could regain the power of my previous life or not. The result was a miss. Even when I tried as hard as I could, nothing big changed.
"It's probably because of magic."
Said the witch. Did she see through my thoughts?
"The warriors of that world unconsciously absorb mana into their bodies as they train. Even if you don't have the talent of a magician, the mana you absorb will not disappear, rather it will be kneaded into your body itself the more you train. The mana will slowly reshape your body structure as you absorb more of it."
It was the first time I had heard that theory.
It wasn't universally known, at least not in that world.
"In other words, the physical ability of the warriors are some kind of byproduct of magic."
Conflicts between warriors and wizards were not uncommon in that world. But if it became clear that warriors were actually using magic too, it would plunge the world into chaos.
"I didn't know that…"
That fact surprised me.
Still, look at this girl. Nonchalantly dropping earth-shattering facts like that…
"Anyway, you probably won't be able to get your power back. There's too little mana in this world for you to absorb. You need to stir it up yourself for it to even respond to you, it won't automatically settle in your body like back in the other world."
It was hard to believe, but I couldn't bring myself to doubt the witch's words.
The witch was a master of magic and she knew about that side of the world more than I do.
Besides, logically speaking, her words were correct, I couldn't even refute her even if I wanted to.
"This place should be fine."
We arrived at our destination and stopped walking.
The rest area in front of the club building. There were benches and vending machines here.
It was located near the entrance to the gym, the heaven for the jocks. Though considering it's location, there were few people who would loiter around here even during the club activities, let alone right now when classes were going on. In other words, this place was deserted, no one would come to listen to our conversation.
I turned around and faced the witch.
I narrowed my eyes as I paid attention to the witch's every move.
"Hm, what is it? Are you wary of me because of the thing I did earlier?"
"Of course. I couldn't just let you have your way with me more than once."
"Even though you can't win against me no matter what you do? I do have the power of my previous life, you know? Even though I can't use it freely, it's something compared to you."
Said the witch as she smiled bewitchingly.
Her words made me wonder.
Even though my body right now was that of an ordinary high school student's I still had the combat experience and martial skills from my previous life. Ordinary person could never beat me.
The witch could try to enhance her body with magic, but I could still react to her no problem as long as she didn't catch me off guard like she just did. Besides, like she said, she couldn't use her power freely, so I should have a decent chance.
"Don't worry, it isn't like I'm going to kill you. I mean, what's the point?"
"…Right…"
The witch turned her back on me as I let my guard down
At this distance, I could definitely finish her off if I wanted to, but like she said, what's the point? Even if I did that, the world would brand me as a criminal for assaulting a high school girl and I'd rather not live my life as a criminal.
"Do you want something to drink?"
I asked the witch who was looking at the vending machine.
I took out my wallet and put a hundred yen into the vending machine. I randomly chose canned coffee. Incidentally, most of the vending machines at this school sold drinks for 100 yen. It was a good price for a student.
TLN: Thanks for iyo for editing this chapter. Join our discord server using this linkDiscord
Comments for chapter "Volume 1 Chapter 1 Part 3"
NOVEL DISCUSSION