Please Tell Me How to Remember Love - Chapter 2 Part 3
Chapter 2 Part 3
The scolding Takayuki received from Yui and Aoi mostly consisted of something along the lines of, 'If you were going to do something like that, tell the others about it first, you idiot!' Apparently, Karin was acquaintanced with Yui and they had been contacting each other during the search for the lost child's parents. As for Aoi, Yui contacted her about this and she was more than glad to join in scolding Takayuki. After understanding the situation, they cut the scolding short and dragged him to the volleyball club so that he could apologize to Haruka.
Aoi made it possible that he could go there. The driver was arranged by Yui. Meanwhile, Takayuki, who was guilty of breaking his own promise, was in charge of buying an apology gift as well as apologizing. With this division of roles, everything was done quickly and they managed to resolve the problem before Takayuki's interpersonal relationship deteriorated even further.
"I'll have the pancake set, a tropical parfait and a piece of cheesecake, please."
"One grilled chicken, please. C'mon, Satou-kun, you can order something too. No need to be shy."
"…Another refill, please."
However, everything came with a price. 
After the apology, the three of them went to a family restaurant. To show his appreciation for the two's efforts, Takayuki treated them to a good meal.
"H-Hahaha… I can feel my wallet getting lighter…"
"You haven't even paid for anything, you idiot."
"This is a cheap price for breaking your promise to Haru-kun, don't you think?"
"…Yes."
The seating position was, Takayuki sitting by himself, facing the two girls across the table. Both of them were glaring at him, but they wolfed down their food nonetheless.
"Mm! Sweet things are the best thing to relieve stress!"
Aoi was eating the sweets with precision and speed, but she still looked graceful as she was doing so. It didn't look like she was eating quickly from her gesture, but her speed could be seen clearly from how fast her food disappeared from her plate. Seeing her eating made Takayuki feel some joy.
"Nom nom…"
On the other hand, Yui's gestures were bold and vigorous, despite the cold look on her eyes. She opened her mouth widely and bit into the chunk of chicken without any hesitation. Though, unlike a beast, she didn't leave leftovers on her cheeks.
Takayuki watched them eating in a daze. He wasn't jealous of them or anything though, he just stared at them while sipping his orange juice.
""Thanks for the food!""
By the time Takayuki finished his second drink, they had already gulped down their food.
"Alright, now that I'm done scolding him, I'm going to go home. You two should discuss the rest among yourself."
After finishing her meal, Yui casually stood up from her seat.
"Ah, Yu— I mean, Takayama. I have a question for you…"
"Depending on the question, I won't give you the answer you're looking for."
Takayuki stopped her. Yui let out a sigh before she sat back down again.
"So, Kuramori contacted you just now, right? Then you were the one who contacted Miyama… Anyway, are you close with Kuramori?"
"She's a friend. Before you say anything, I know that she has been following you."
Not only that, but she was also the one who gave her all the information she needed about him. Aoi knew this, so she gave Yui a dissatisfied look, but Yui just ignored her.
But Takayuki was unaware of this interaction, so he asked her another question,
"I see. Then, can you tell me how to contact her parents? I know she has someone that could be called her guardian, but I still need to visit her parents properly at least once."
To this innocent question, Yui narrowed her eyes and answered,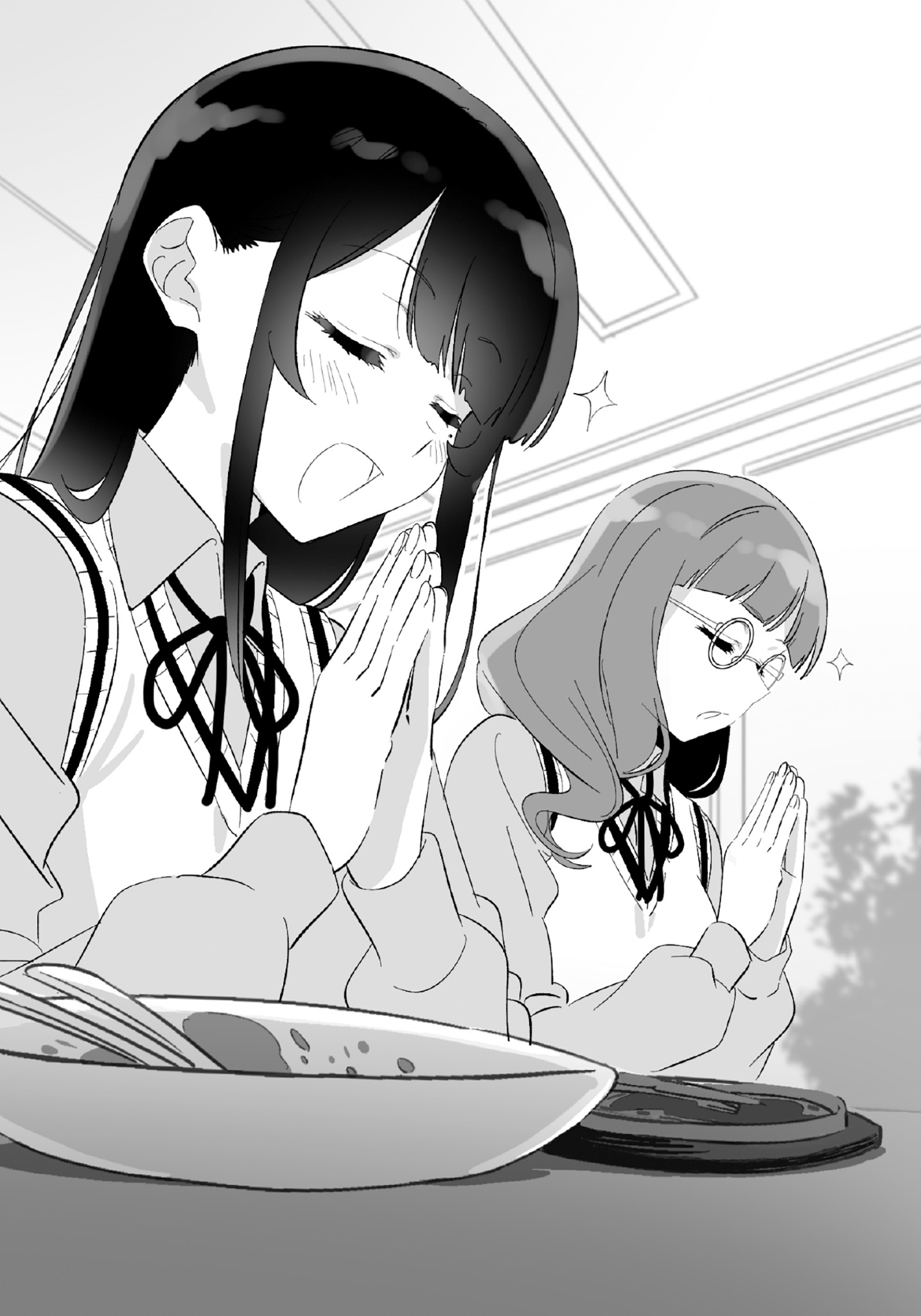 "That's impossible. Karin doesn't have parents."
"…What?"
Not only Takayuki, even Aoi was shocked by those words. Nevertheless, Yui didn't care about their reactions and continued her words.
"Her father passed away from an illness before she started pre-school. Her mother left her behind five years ago. Our branch family is her mother's family, so they're the ones currently taking care of her. However, that family has the laissez-faire policy, they're just taking care of her because it's their responsibility and not because they are emotionally attached to her."
Yui continued to say those shocking facts like they were nothing.
"They didn't make her life difficult and they'd spend their time for her if she ever asked them to, but they only did it out of their sense of duty instead of love. They aren't her family, but a bunch of strangers living in the same house as her. That was the kind of environment she grew up in."
She said all those words casually, but Takayuki didn't doubt any of her words. He knew what Yui's personality was like. She wouldn't say something like that as a joke.
That was why he was so stunned by Karin's unexpected background and tried to say something.
"That girl… Kuramori—:"
"Don't pity her."
Yui cut his words before he could say anything else. Her tone was as strong and harsh as usual.
"Don't treat her past as some kind of a tragedy novel. Don't treat her as if she's a pitiful fellow. Both of you might have lost someone important, but don't try to put yourself in her shoes. You are you, Karin is Karin. Do you understand my words?"
Takayuki knew. Yui always said that she wasn't a kind person.
"Only Karin herself has the right to determine the value of her own life. The only thing that you should do is to face her properly."
Takayuki knew. Yui was a prideful girl.
Takayama Yui was a girl who aimed to live a noble life. She despised any kind of cheap sympathy.
"Also, Miyama-san, you don't need to worry. Karin already gave me permission to talk about this in advance."
"…I understand. Thank you for your consideration for me."
Yui sent a dry smile to the discouraged Aoi. It wasn't a smile filled with arrogance, but one filled with approval over the fact that it was Aoi who stayed by Takayuki's side.
"Then, I'll leave everything to you two."
"Takayama."
"What?"
Yui stood up again without dropping her smile, but as soon as she heard Takayuki calling out to her again, her expression became distorted.
"Thanks for helping me out today."
"…Hmph. Say those words to your partner, idiot."
Then with a foul expression on her face, she walked away.
At first glance, it felt like she spouted those words to hide her embarrassment, but there was a more complex emotion behind them.
*   *   *
"…Another shiratama anmitsu, please." (T/N: I don't know how to explain what the hell it is, so I'll show you a pic of it:
)
"Oi, Miyama, are you okay? I'm worried about your stomach. Won't you get fat if you eat that much?"
"Hmph. I just need to move as much as I eat. Also, it's none of your business."
After Yui left, Aoi proceeded to lighten Takayuki's wallet even further.
Takayuki could tell that she was in this kind of mood because of Yui, but he didn't know the exact reason why. Then he remembered the last thing that Yui said before he left.
"I see. Well, I'm really thankful for all that you've done, Miyama. I don't mind spending all my money to treat you to some sweets, but please don't overdo it. I'm really worried about your health."
"…W-What? I-If that's what you're worried about, I told you, it's none of your business."
Seeing Aoi pouting her lips before turning her face away made Takayuki realize that Yui's words were spot on. Yes, they might be partners, but things like gratitude still had to be said properly. He figured out that the reason why she was sulking was because he failed to do so regularly.
After swearing to change his ways in his heart, Takayuki bowed his head.
"I know this is late, but I really want to give you my heartfelt thanks, Miyama. Thank you for covering my mistakes this time. If you weren't there, I would've hurted Haruka-senpai even more."
"Hmph. Raise your head, Satou-kun. Remember that I'm your partner. Me helping you out is a given. Remember. I. Am. Your. Partner. Okay?"
"Yes, I'll remember that."
Takayuki raised his head and gave her a nod. His action made a smile blossom on her face.
"Hehe, good. Always keep that in mind and rely on me even more in the future!"
"No, I can't do that. We are partners, we're supposed to be equals. I need to help you as much as you help me. That's why if you ever need my help, just tell me."
Aoi pondered after hearing his words for a moment.
"Hmm… Come to think of it, there's that troublesome case. Thanks to the sweets, I forgot about all the stress that one case gave me. As expected, sweets are justice!"
"I never knew justice was so expensive… Anyway, what are you talking about?"
"Well, an unruly senpai asked me for some love advice."
Of course, prior to this, Aoi had already received permission from Rinko to seek help from people she deemed as trustworthy. That was why there would be no particular problem if she were to confide in Takayuki about this.
"Jeez, that person is as stubborn as an ox. I gotta give props to Akanashi-senpai. Making that kind of deal with that person is quite something."
"Huh? You know Iwanaga-sensei, Satou-kun?"
Aoi tilted her head as she asked him that question. She was curious about the relationship between the rule-abiding teacher and the delinquent student.
"We aren't that close, but we do talk to each other occasionally. From those conversations, I know how stubborn that person is… Well, on the other hand, because of his stubbornness, he won't lie to her, so I guess that's one good thing about this case."
"I see. If you say so, Satou-kun, I guess I can count on that. Anyway, the problem here is how to find out about his private life. Rinko-senpai was thinking about hiring a detective if things came down to it, but… Hiring a detective for a love affair is a bit…"
"Hmm…" Aoi closed her mouth tightly as she mulled over the problem. The sight of her wrinkling her eyebrows while swaying her body from side to side could make anyone who saw her look think that her gesture was cute. Though the girl was thinking seriously.
"That's unusual, Miyama."
That was why Takayuki ended up saying what was on his mind.
"Unusual? What do you mean?"
"I thought you're the kind of person who'd avoid people that you don't particularly like. But you're going this far for her."
"That's… Um… I-I mean… I owed her something, so…"
At first, Aoi mumbled her words, but as she continued, they became clearer.
"While I find her annoying, I can't just leave her alone."
Her smile resembled the smile of a mother who had just caught up in her child's pranks.
"After all, this rotten relationship of ours had started ever since we were in middle school."
Aoi began to reminisce about her memories with Akanashi Rinko.
*   *   *
Fall of the first year of middle school was the first time Aoi met Rinko.
It was an unusually cold morning on the weekend. Aoi went to the park where she promised to meet up with her friends. Their plan was to play around in the city for the day.
Suddenly, with a thud, a small figure fell in the park.
"…Eh? Are you okay?!"
Maybe because the park was located at the top of a steep slope, there was barely anyone there. There were some children playing around nearby, but they were only grade schoolers at most. Aoi was the only person around who was able to deal with the situation.
"Phew… It's okay… It's okay… All that time I spent reading all those medical manga shouldn't be in vain! It's your moment now, Miyama Aoi!"
For reasons she herself failed to understand, Aoi hyped herself up to try and help the collapsed person despite her being a complete amateur at this.
"…U-Uuu… Where… Is this?…"
Luckily for her, the person immediately woke up after the first procedure. With that, Aoi understood that the matter didn't seem to be much of a big deal. The person also didn't seem to have any external injuries.
"Ah, thank god, you woke up! You're in the park right now! You suddenly collapsed in front of me. Are you okay? Are you hurt or maybe you are in some kind of trouble?"
Aoi asked in a gentle tone, as if she was talking to a younger child. It was understandable though, as the person in front of her looked exactly like a child.
With their long, unkempt, shaggy hair, tattered duffle coat that had gone through the passage of time and their small build, it was not a surprise that Aoi'd assume that the person was younger than her.
"…M-My stomach…"
"Your stomach? Is it hurting?"
"…No… I'm…hungry…"
"…What?"
But, her assumption was completely wrong. That person was Akanashi Rinko, a senpai that went to the same school as her. She wasn't in pain, she was just hungry because she had been sketching in the park while forgetting to eat.
It wasn't until a few hours later that Aoi found out about the full situation and burst in anger.
*   *   *
In middle school, Aoi was so full of herself, trying to play as a hero of justice to the point that she treated that part of her life as her black history nowadays. This was even more so back when she was a first year. She'd always gone out of her way to look for someone that she could show off her overflowing sense of justice to.
Since the older student in front of her seemed to be in some kind of problem, she was a perfect target for her.
Back then, Aoi was more than willing to come over to her house to stick her nose to her affairs. Especially after she found out that the girl went into the same school as her and was a well-known truant.
"Hello, Rinko-senpai! I'm here to cook you something to eat!"
"…You don't need to come everyday…"
However, as the target of Aoi's overflowing sense of justice, Rinko felt depressed about her situation. Yes, for Rinko back then, Aoi wasn't someone she particularly liked.
"Oh, c'mon, don't be like that~ I know I'm pretty and caring, and you're overwhelmed by me willingly taking care of you, but you don't need to mind it that much~ By the way, it's cold out there today, so let's have some kamonabe!" (T/N: Kamonabe literally meant duck hot pot. I think it's self-explanatory.)
"…You just don't listen to others, do you?"
Even so, Rinko couldn't exactly reject her, since after Aoi saved her, she got a hold of her weakness, which were her identity as a well-known truant and the location of her house. Also, it wasn't like she had the option to refuse her as her health would deteriorate even further without her.
Aoi knew about this, so she used this weakness of hers to slowly entrap Rinko to satisfy her desires.
"Now, now, eat plenty and get well soon!"
"So noisy…"
Aoi secretly giggled as she placed the kamonabe on the table.
She had already finished her research on Rinko. Rinko was a second year who, at one point, stopped coming to school because she failed to fit in with her surroundings. She was a member of the art club, a well-known genius among them. Both her parents had jobs and they always came back home at midnight. Maybe because she was painting all the time, she practically neglected herself. Inadequate living environment, clothing and food were only part of her problems. Her room was a mess and she never changed her clothes.
With that information, Aoi calculated that if she were able to rehabilitate Rinko, then everyone at school would view her as a hero.
"Yes, yes, you ate a lot, didn't you? Alright, now that you're done eating, let's take a bath, shall we? You're a little stinky, but some good rubbing will fix that!"
"…You… Planned this all along, didn't you?… S-Stop…"
Aoi's plan was to take care of Rinko and make her voluntarily go to school by persuading her both mentally and physically. Due to her forceful actions, her actions were actually more counterproductive than anything, but at that time, Aoi was so full of herself to the point that she failed to notice this fact.
This was a week after they first met.
*   *   *
"Rinko-senpai, if it's hard for you to go to school, then, please don't force yourself. There are various forms of educational facilities nowadays anyway, you don't need to go to school."
A month after they met and three weeks after Aoi started taking care of Rinko. Aoi had already grown fond of Rinko. Instead of her original plan of trying to be viewed as a hero by the student body, she decided that it would be better to ensure her happiness instead.
"Why are you saying something like that when I finally gained the will to go to school on my own, Aoi?"
But, Aoi's remarks were confusing for Rinko.
After all, she was the person who'd been yelling at her for the past month to go to school. If she wasn't her benefactor, Rinko woulda slapped her already. But after seeing her efforts and how caring she was, Rinko also grew fond of Aoi.
But, when she decided to finally go to school to make her happy, this was her reaction. Rinko was puzzled.
"B-But, didn't you say that school is boring? I can't let you go to a place like that!"
"Don't you go there everyday? Also, you were the one who has been telling me to go. I mean, I don't want to be a tool for you to satisfy your twisted sense of justice, but at the same time, it doesn't feel bad being taken care of by you. That's why I decided to take advantage of your kindness and go."
"You're a dear friend of mine, Rinko-senpai! Don't demean yourself as a tool or whatnot ever again!"
"S-Sorry… I-I never knew that you liked me this much…"
Rinko couldn't hide her bewilderment toward Aoi, who was staring at her with teary eyes.
She had already found out about what Aoi was planning since the very beginning, but she hadn't realized that Aoi actually thought of her as one of her most important friends.
"Why do you like me anyway? It doesn't seem like you're interested in my art and aside from art, I'm no better than any other person out there… So, why do you like me?"
"Rinko-senpai, you're an idiot!"
"Gya!"
Aoi suddenly hugged Rinko, who started talking in a self-deprecative way.
"You might be stinky, terrible at housework and hate everyone, but you're fun to hang around with! I enjoy being with you! You have a different perspective about a lot of things compared to me, so I always learned something whenever I talk with you! Above all, you even went out of your way to try to go to school just because of me even though you hate it!"
"G-Got it, c-could you please stop hugging me? You're putting too much strength on it!"
"That's how much I love you!"
"Your love is hurting me!"
After escaping from Aoi's embrace, Rinko gasped for breath as she realized the weight of Aoi's feelings toward her.
Aoi was cold toward the opposite s*x, but when it came to the same s*x, her skinship could be excessive to the point that she could actually hurt the other person.
Though, her overflowing affection was proof of how much she actually liked the other person, so more often than not, they'd forgive her for it.
"I get it, I understand how you feel. But that's the reason why I decided to go to school."
"But why?! You don't need to force yourself!"
And Rinko was one of the people who forgave her for it. Despite her rotten initial motive, in the end Aoi abandoned it and became genuinely worried for her sake.
"I'm not forcing myself. You see, I'm interested in school now. Aoi, I want to spend my school life with you."
"Rinko-senpai…"
Seeing Aoi's eyes starting to tear up, Rinko couldn't help but let out a giggle.
"You don't need to be so dramatic. Anyway, if I need help I can just rely on you, right?"
"Of course! I'll sell my soul to the devil to help you!"
"Didn't I tell you to not be so dramatic? …Well, whatever."
Rinko grabbed her own hair in the middle of her sentence and let out a smile. She came up with a good idea.
"For now, can you recommend a good hairdresser for me?"
That was how their friendship began. From then on, they went to school together, hung out together and experienced various things together.
And Aoi, who grew to be more mature as time passed, would always end up getting teased by Rinko as she kept mentioning about her antics back when she was younger.
TL: Iyo
ED: Iyo
Comments for chapter "Chapter 2 Part 3"
NOVEL DISCUSSION