I Know That After School, The Saint More Than Just Noble - Ch. 4: A Visit To The Saint With A Summer Cold
Ch. 4: A Visit To The Saint With A Summer Cold
It was the next morning.
There was no sign of Sayla in the classroom.
At the beginning of morning homeroom, the teacher announced that Sayla would be absent due to a cold.
Probably — or rather, definitely, her cold was caused by yesterday's excursion to the pool.
Now, Yamato was regretting their decision to go to the pool at night, even though it was close to the opening of the pool.
Yamato immediately sent a message to Sayla during a break, "I heard you caught a cold. Are you okay?"
Yamato was worried about her health, and on top of that, he couldn't work up an appetite because he had failed to protect her, so Yamato was sitting alone in his seat, in a daze.
"Hey, Kuraki. Are you okay?"
Eita called out to Yamato and he looked over to see Eita and May standing besides him looking worried.
"Yeah, I'm fine. It's not like I have a cold or anything."
"No, you don't look fine by any stretch of the imagination. You look pale. You haven't eaten either."
"I just can't seem to work up an appetite."
Then May offered him a piece of sweet bread and said.
"At least eat a little, okay? If you can't have a regular meal, you can have something sweet or something."
"Thanks. I appreciate your sentiment."
Not wanting to cause them to worry even more, Yamato grabbed his lunch box and left his seat.
"Hey, do you want to eat with us today?"
Eita immediately invited him to lunch, but Yamato shook his head left and right.
"I really appreciate it. But I feel uncomfortable if I don't eat lunch in a certain place. Don't worry, I'll eat fine."
"I see, well, go ahead and eat up."
"Take care."
After being seen off by the two, Yamato left the classroom.
Then, as soon as he reached the rooftop, Yamato mindlessly shoved down his lunch.
"Kee, ugh…"
Yamato choked and swallowed because he suddenly ate without drinking any water.
Yamato gulped down a cup of green tea that he had bought on the way here and paused to catch his breath.
It was summer and Yamato was on the rooftop with a lukewarm breeze blowing, however, he couldn't feel the heat. The core of his body seemed to be chilled, and he almost felt as if he had caught a cold.
"Shirase, I hope you're getting some rest."
Yamato looked up at the sky and muttered to himself.
Yamato hoped she was sleeping well. Yamato wanted to believe that she was taking medicine and drinking enough water.
But if she wasn't… Yamato couldn't help but imagine a bad situation.
(I'm such a worrywart.)
However, Sayla lived alone. Her parents and sister may be rushing to take care of her, but otherwise, she was home alone. She may not be able to take her medicine well.
And while it was hard to imagine Sayla being alone and anxious… there was a possibility.
"Haa…"
As Yamato sighed heavily, the bell rang.
With a heavy heart, Yamato returned to the classroom with an empty lunch box.
Yamato took his afternoon classes with a depressed feeling and finally arrived at the end of the school day.
As Yamato was getting ready to leave, Eita and May approached him again.
"Hey, Kuraki."
Eita said in a hushed voice.
"Are you going to visit her today?"
Yamato was puzzled when he was asked that.
"What, no…"
"Ah, you don't know where her house is? Do you know, Tamaki?"
"I-I don't know! I wish I did!"
"Then I'm going to go ask the teacher about it. Sensei—"
"Ah, umm, I know where her house is."
Yamato said without thinking, and both Eita and May rolled their eyes.
"That… of course, I've never been in there."
When Yamato mentioned this, Eita and May looked at each other and then nodded.
Then, just as May started to fidget, she held out the plastic bag in her hand.
"C-Can you give this to her? I bought it for her, and it's all fruit jelly inside."
Inside the bag, just as May had said, was all kinds of colorful fruit jellies. It was easy to eat even when one had a cold.
"No, I…"
"You're going to visit her, aren't you? I'm sure the Saint is waiting for you, Kuraki."
Eita interrupted Yamato's words and gave him a smile.
"Shinjo's just trying to be funny…"
"Kind of!"
Eita showed his white teeth and made an okay sign.
Yamato chuckled at the fresh attitude and the look on his face.
"…Okay, I'll go. I've been thinking about it for a while."
"That's what I'm talking about!"
Eita slapped Yamato hard on the back and Yamato stood up, feeling as if he was being pushed.
"Thank you both so much."
Yamato thanked them shyly, and they both smiled at him.
"Take care of the Saint."
"Don't get too comfortable though."
As if the two of them were urging him forwards, Yamato ran out of the classroom.
Yamato felt his body and heart were lighter than ever.
As he left the school, Yamato sent Sayla another message.
He told her that he was going to visit her house and that he would buy some medicines and fruits, so if there was anything she was missing or wanted, she should let him know.
After deciding to go visit her, Yamato still felt uneasy about visiting Sayla's house.
After all, Sayla lived alone. Even if her parents or siblings were present, it would be awkward.
In addition, the fact that he had to enter that tower apartment was a hurdle in itself for an average person like Yamato.
However, there was no use in letting such anxiety get to him. Yamato set his mind and bought some medicines and cooling sheets at a drugstore when he stopped by on the way, and stopped at a supermarket to buy some food and drinks.
So, with the help of his memory, Yamato walked for 20 minutes.
Yamato arrived at Sayla's house — the first time since the day of the class party.
As expected, the feeling of intimidation was tremendous for Yamato when he saw it in front of him. The pitch-black walls overflowed with a sense of luxury, and it hurt his neck to look up to see the whole building, which looked like it was reserved for celebrities.
However, Yamato couldn't just be pressured and stand there.
Yamato still hadn't received a reply to his message from Sayla.
With determination, Yamato entered the entrance and checked Sayla's room number from the mailbox.
He enters the room number into the ringing device and after a few seconds or so
"Yamato?"
And just as Yamato thought he heard Sayla's voice over the equipment, the door to the lobby opened immediately.
(She opened it right away… I think she should be a little more vigilant.)
Yamato walked through the lobby decorated with a modern interior and boarded one of the many elevators.
Yamato pressed the button for the twentieth floor, where Sayla's apartment was located, and it arrived shortly.
"I guess Shirase is always in and out of these places…"
Yamato exited the elevator and walked down the corridor, thinking once again that she lived in a different world.
Then he spotted Sayla at the end of the hallway. She was wearing cute strawberry-patterned pajamas and had a cooling sheet on her forehead. Yamato wasn't sure if it was the vague expression on her face or the way she was dressed, but she seemed to have suddenly become younger, and Yamato became irresistibly protective of her.
(What's with this outfit, it's too cute… wait no!)
"Umm, I'm sorry to have you come all the way out here. How are you feeling?"
"I just woke up. I'm okay, I guess. Since you've come all this way, come on up. …But I don't want to give you my cold."
"No, well, I don't have to worry about catching a cold or anything…"
"Well, come on up."
Without hesitation, Sayla opened the front door and beckoned Yamato to head in.
She said she woke up earlier, but she must have been awakened by the sound of Yamato ringing the intercom. From the fact that her pajamas were soaked with sweat, Yamato could tell that she had come straight out of bed to open the door for him.
As they walked up to the front door, Sayla wobbled her way across the wooden floor that stretched in a straight line. It was visibly obvious that she was still not feeling well.
Immediately, Yamato rushed to Sayla's side and firmly supported her body.
Yamato noticed she still had a fever, her body was very hot.
Sayla suddenly looked away and said in a small whisper.
"…I'm sweating a lot."
"This is not the time to be talking about that. Your room… umm, where's your bedroom?"
"In the back."
"Okay, let's take it slow."
Yamato lent Sayla a shoulder as they slowly made their way down the corridor.
As Yamato supported her slender body in this way, he was reminded that Sayla was a girl. She was usually cute, but she was also a very easy-going and dependable person, which sometimes makes him feel like he's losing her.
Besides, Sayla was concerned about her sweat, but Yamato didn't find it unpleasant at all. In fact, he even hoped that she would not mind and would rely on him more and more.
When they arrived at the bedroom, Yamato laid Sayla down on the semi-double bed.
The interior of the room was simple, but there were some cute decorations, such as a stuffed panda on a shelf and a strawberry-patterned carpet.
(So this is the girl's room. I've never been in one before, but it's still something completely different.)
In this way, Yamato was momentarily immersed in emotion but quickly came to his senses.
"Well then, I'll be using the kitchen. Tamaki-san gave you a lot of fruit jelly, so I'll put them in the fridge. Also, I'll leave a bottle of sports drink here for you."
"Sweaty and sticky… I feel disgusting"
"Uh, okay. I'll get you something to wipe with. Is there a change of clothes in the closet?"
"Mmm… achoo."
After all, Sayla didn't look well. Her eyes were vacant and her voice sounded very congested. It was times like this that Yamato felt strongly that he needed to be dependable.
Sorting out what he had to do in his mind, Yamato began to act briskly.
First, he walked through the large living room into the kitchen and put the things he had brought into the refrigerator.
There was only juice and mineral water in the refrigerator, and the cooking utensils had hardly been used, so it was obvious that Sayla did not usually cook for herself.
Instead, there were a few large garbage bags in the corner. Basically, she must have spent her time eating delivery food and eating out. Seeing a situation like this, Yamato became even more worried about her health.
The kitchen was cleaned properly, so Yamato only needed to wash the utensils in water to start cooking.
However, the cooking would have to be done after he finished his other tasks.
Yamato went to the bathroom to get a wet towel and went back to Sayla's bedroom.
Just to be sure, Yamato knocked before entering the room and heard a groaning "Hmm" reply, so he opened the door.
"Shirase, I got you a wet towel."
"Thank you."
Sayla got up, thanked me, and took off her pajamas—
"—Hey, no, stop stop! At least let me put the towel down and leave the room!"
Yamato managed to turn around, half in a panic.
However, despite Yamato's agitation, Sayla said in an indifferent tone.
"I need you to wipe my back."
"Eh, ah, umm… I get it."
When Yamato was ready, Sayla took off her top and faced away from him.
And right after that, a pat and an unfamiliar sound reached Yamato's ears. …Apparently, she unhooked her bra.
Yamato had heard that some women went without a bra at home, but Sayla seemed to be the type who wore one. He felt fortunate to know such a thing unexpectedly.
"Go ahead."
Yamato turned around upon hearing these words and gasped.
After Sayla turned her back to Yamato, he found her back was very beautiful.
Snow-white skin, slender shoulders, and beautiful shoulder blades. The drops of sweat that run down her body are incendiary and rapidly accelerate his heartbeat.
"Yamato?"
Sayla turned her head slightly. She didn't seem to have the slightest bit of caution towards him.
In order to live up to her innocent eyes and her trust, Yamato took a deep breath before approaching her.
"Yeah, I'm fine. …Just your back right?"
"Yeah, I can wipe the rest off by myself."
"Got it."
Sayla was barely covering her chest with the blanket, but the glimpse of her collarbone was quite alluring.
Yamato was praying to God in his heart that she wouldn't turn around. If she did, he was not sure he would be able to remain sane.
"I'll wipe it down then."
"Yeah, thank you."
Yamato sat down on the bed and slowly placed the towel on Sayla's back.
"Mmm. …Feels good."
She let out a small exhale and closed her eyes in ecstasy.
Yamato, on the other hand, was all tense, as if his heart was about to jump out of his mouth at any moment.
Every time the towel was pressed against the silky soft skin, Sayla let out a small breath.
Each of her gestures was so erotic that Yamato felt entirely weird.
(Hold on, hold on, my reasoning, don't lose, hold on, erase my ulterior motives…!)
As if reciting a spell to himself, Yamato bit his lips to control himself.
"…It's done."
One minute in time, which seemed like an eternity to Yamato, was finally over.
"Thank you. I feel so much better now~"
"That's good to know. Is there a change of pajamas in the closet?"
"Yes."
"I'll open it."
When Yamato opened the closet, he found one large multilevel drawer inside, in addition to a variety of clothes.
"Which layer is it on?"
"The lowest."
Yamato did as he was told and opened the bottom one.
And then Yamato saw that it was filled with colorful underwears—
"Whoa!?"
Yamato raised his voice shamefully, then quickly closed the shelf.
"What's wrong?"
"What's wrong? What do you mean what's wrong! There weren't any pajamas at the bottom!"
"Ah, maybe it was above that."
"Goodness, how did you get that one wrong…"
Feeling as if his life span had been shortened, Yamato opened the one above and found socks in it.
"…"
When Yamato finally opened the top drawer, he finally found her pajamas. All of them had cute patterns and designs on them.
"Ah, Yamato."
"W-What is it?"
"I need to change my underwear."
"You'll have to get that yourself!"
"Ehhhh…"
Compared to the usual Sayla, Yamoto felt like she was acting more spoiled than ever before.
It was nice to be relied on, but it was also too stimulating for Yamato to handle.
Sayla got off the bed, dragged the blanket with her, walked over to the shelf, and squatted down.
"…Well, I'll go make some porridge. If you need anything else, call me."
After saying that, Yamato escaped from the room.
If he was not careful, Sayla could have started changing her underwear right then and there.
When he arrived at the kitchen, Yamato slapped both his cheeks vigorously. The purpose of this was to get himself back into the swing of things.
"I have to be strong. — Okay, let's do this."
Rolling up the sleeves of his shirt, Yamato began to cook with great enthusiasm.
Fifteen minutes later.
Yamato finished the homemade porridge set and put it on a tray to move to Sayla's bedroom.
Yamato knocked on the bedroom door and received a "Come in" from inside.
When Yamato opened the door, he saw Sayla, who had changed into her new pajamas and was just getting out of bed.
"I've made porridge. The base is a premade, though."
"I don't want to eat."
"You still have to eat. You haven't eaten anything since this morning, have you?"
"Right but… Ah, I want to eat jelly!"
"After you eat the porridge."
When Yamato said this like soothing a child, Sayla puffed out her cheeks.
Yamato put the tray in front of Sayla and opened the lid of the earthenware pot.
"Wow, egg porridge."
Sayla's expression immediately changed. This was the reaction Yamato was aiming for.
"You like fried eggs, so I made you porridge with eggs. There are also dried plums, bonito flakes, and baby sardines if you want them."
"Amazing~"
Sayla quickly scooped up a spoonful of porridge and blew on it before bringing it to her mouth.
"So good~"
"It's amazing what you can do with a premade these days. Hooray for the commercial premade."
When Yamato said this in embarrassment, Sayla turned her head and said, "Thanks." Yamato's embarrassment was getting worse.
Yamato wasn't sure whether it was because she changed her clothes or because of the porridge she ate, but he felt that Sayla's condition was improving. Maybe the fever had already gone down.
With that in mind, Yamato prepared a thermometer.
"After you eat that, you can take your medicine. And I'll check your temperature."
"Maybe I'll be okay now."
"Who knows."
In the end, Sayla gobbled up all the porridge in the earthenware pot.
She also ate all the side dishes Yamato prepared, except for the dried plums. …She didn't dry plums.
After the meal, Sayla took some over-the-counter medicine that Yamato had bought, and then measured her fever with a thermometer.
Yamato managed to shake off his evil thoughts and stood up. Although he felt nervous when Sayla unbuttoned her chest and held the thermometer under her arm.
"Okay, I'm gonna go get some Jell-O. You can take it off when it rings, okay?"
"I know that much. You are too careful."
Yamato's cheeks relaxed as he left the room, smiling at Sayla's troublesome look.
Then he grabbed some jelly from the fridge and came back to find Sayla staring at the thermometer.
"Ah, you've finished. How is it?"
"Yeah, I knew it was going down."
"Oh, that's good."
Relieved, Yamato checked the thermometer and found that she had a temperature of just over 38 degrees Celsius — a solidly high fever.
"…You know."
"It was higher in the morning."
"Then ask your parents to come over, or if that's not possible, call me instead…"
Yamato said in a dumbfounded manner, and Sayla looked up at him with a pout. He was very surprised to hear her say that.
"It doesn't have to be me, it can be Tamaki-san or someone else. But at least in a situation like this, you should rely on someone."
"Ok. Next time, I'll call Yamato."
"Yeah, do that."
Seeing Sayla's somewhat happy expression, Yamato felt embarrassed.
To change the subject, Yamato offered her the jelly he had brought.
"Can you eat the Jell-O? I mean, if it's too hard, you don't have to."
"I'll eat it."
She looked fine for someone with a high fever of thirty-eight degrees Celsius, and her appetite seemed to have returned. She would be fine as long as she kept resting.
(And she ate all that porridge by herself. Shirase is really amazing.)
While Yamato was admiring her, Sayla finished eating the jelly and tried to get out of bed.
"What's wrong? If there's anything you need, I can get it for you."
"bathroom"
"…Have a safe trip."
As usual, she was wobbling after getting out of bed, and it made Yamato worry as he watched her.
However, it was impossible to keep up with such feelings. Feeling short-handed, Yamato decided to go back into the kitchen and prepare the remainder of the porridge.
When he returned to the bedroom after finishing that, Yamato found Sayla asleep in the bed.
The setting sun shining through the window slightly illuminated the room, and Sayla, who was sleeping, seemed to be the embodiment of a saint.
Just looking at the scene made Yamato feel relaxed, and that was when Sayla opened both her eyes.
"Sorry, I must have woken you."
"No. I was just thinking about something."
"When you have a fever, you shouldn't think too much."
When Yamato gave such advice, Sayla said in a daze.
"I just felt weird to have Yamato in my house."
"It's not surprising that you think so. I never thought I'd end up in Shirase's house either."
"When you have a fever, does Yamato's mother always take care of you like this?"
Sayla asked, her face half peeking out from the futon. It had nothing to do with the topic of the conversation, but Yamato thought she looked cute, like a little animal.
Yamato sat on the bed and answered her question, trying to remember.
"Well, I guess so. It was a long time ago, but when I had a fever, my mom took time off work to take care of me. Are you trying to tell me that… I feel like a mother to you?"
"No. My mother isn't this nice."
Yamato couldn't tell from the way she spoke if Sayla was depressed or not.
However, Yamato could tell that it was hard for her to talk about her parents.
"Shirase's mother must be a busy person I think…"
"Well, I think she's busy but I don't know for sure."
This was the first time Sayla had talked about her family since the last day of the holidays when they went to the rooftop amusement park.
Thinking nostalgic about that day, Yamato opened his mouth.
"I've never met Shirase's parents, so I can't really speak for them, but I think it's okay to rely on them when you have a cold. They're your parents. Of course, if it's okay with you, I'll always come running."
"If my parents come, I'm going to feel even worse."
"Don't say that."
Sayla covered her face completely with the futon. Thinking that he had gone a little too far, Yamato reflected on the situation.
"But, I might rely on Yamato if I can't handle it."
But Sayla didn't seem to feel so bad. In fact, she seemed to be a little embarrassed by her tone.
"Yeah, do that."
Feeling calm, Yamato spontaneously reached out to pat Sayla's head, but he narrowly avoided doing so.
(Why am I trying to touch her so naturally…)
Too close, Yamato retracted his arm to restrain himself, and then took a deep breath.
"Ah, by the way, on a different note, I got my test back today. And it was Math B."
Changing the subject, Sayla came out of the futon again.
"Heh. How'd it go?"
Yamato took out the returned answer sheet from his bag and showed it to her happily.
"I got a score of eighty-six! I've never gotten such a high score in math before. My average deviation was even lower this time."
"Wow, that's great. You did it."
Yamato smiled in embarrassment as he was congratulated.
"This is all thanks to what Shirase taught me. Thank you so much."
"Fufu, you're welcome."
Even Sayla seemed to be happy for some reason and Yamato was also very pleased.
"So, not to return the favor, but… where would Shirase like to go next? We've already been to the pool, so maybe an amusement park next?"
"Hmmm… I'll think about it for a bit. Yamato came to my house today, so I guess I could still go to his house a little later."
Yamato was surprised to find that the Kuraki house was still on the list of possible destinations. It seemed that Sayla was not joking when she had said she wanted to go there.
"Yeah, you'll have to think about it again when you get over your cold. —I'm sorry, I've been talking too much. You won't be able to sleep any time soon."
"No, it's fine. I'm having fun."
Sayla smiled at him, and Yamato looked away, feeling nervous.
"It's nice of you to say so, but as expected, I'm going home soon. You don't have to see me off."
As Yamato was about to stand up, he was grabbed by the sleeve of his shirt.
When Yamato turned around, he saw that Sayla had gotten up and was staring at him with a vacant look on her face.
"Shirase?"
"…stay a little while longer."
Sayla pleaded while looking up at him.
Her eyes were downcast and her cheeks were flushed, and her expression made Yamato want to protect her. However, this was probably due to the fact that she has a fever.
"G-G-Guess I don't have a choice. Go to bed."
Obviously, there was no way Yamato could refuse her request. He said excitedly, and Sayla returned to bed with a sense of relief.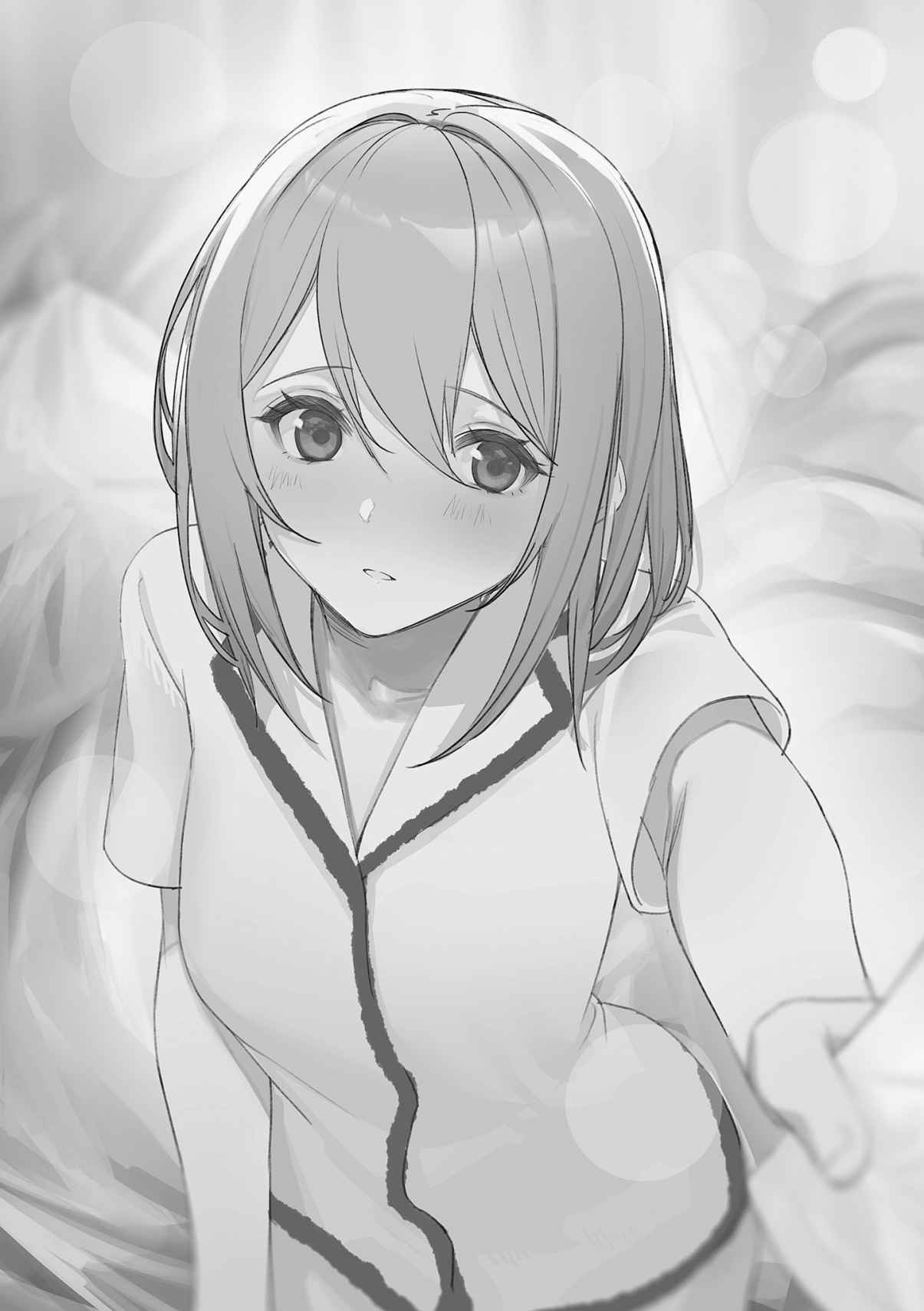 "If you sing something, I might be able to sleep soon."
"Don't be absurd. Unlike Shirase, I'm not a good singer."
Still, Yamato could probably sing a lullaby, but he was too embarrassed to try.
"Thanks for coming by today."
Yamato scratched the back of his head in embarrassment when Sayla suddenly thanked him.
"No problem, we help each other out when they need it."
"Yeah."
After that, the conversation broke down, and Yamato was having trouble deciding how to broach the subject.
"Oh, and the key. They're on the shelf by the front door. Use them when you leave."
Relieved that Sayla had opened her mouth first, Yamato replied.
"Okay, okay. Do you want me to leave it in the mailbox?"
"No, no. I have two. You can have one."
"What!? No-No matter how many spare keys you have, that's not good…"
"…"
"Shirase?"
"…zzz…zzz…"
Despite Yamato's confusion, Sayla began to breathe lightly in her slumber.
She was relieved to have told him what she wanted to tell him.
Besides, they say that fevers tend to rise at night, and maybe she wasn't feeling well.
"I'll return the key next time."
Yamato muttered and turned his gaze to Sayla's sleeping face.
She was sleeping comfortably and had a cute sleeping face that made it feel young for her age.
Yamato hoped that she would get some more rest and get back to her full condition soon. —Yamato gently stroked Sayla's head with such a wish.
(You're going to have to forgive me for this.)
With this in mind, Yamato said goodbye to Sayla.
"Good night, Shirase. …I'm sorry I was so inconsiderate at the pool."
Yamato made a final apology and left the room.
It was something Yamato had been worrying about for a long time. He had been so busy hiding from the guards that day that he had left Sayla soaking wet. Yamato felt that if he had at least taken a towel with him when he hid, she might not have caught a cold.
Yamato blamed himself for any other considerations he may have lacked.
But Yamato was sure Sayla wouldn't want that. "Why are you apologizing?" Yamato could easily imagine her laughing and letting it go.
Therefore, this was an apology for Yamato's self-gratification. It was an act to reduce his guilt and to remind himself not to repeat the same mistake next time.
Disgusted with himself for doing such a thing, Yamato headed for the door.
After putting on his shoes, Yamato grabbed the key that was placed on top of the shoe rack and walked out.
As he locked the door, he noticed that the sun had completely set.
It was still a little chilly at night this time of year. Not wanting to catch a cold himself, Yamato left the apartment in a run.
Comments for chapter "Ch. 4: A Visit To The Saint With A Summer Cold"
NOVEL DISCUSSION