I Know That After School, The Saint More Than Just Noble - Ch. 8: Midnight Merry Go Around
"Hey, Yamato. Do you smell that?"
Sayla asked, leaning in close to him as they walked along the street during the night.
The faint smell of charcoal from the barbecue filled his nostrils, along with a sweet fruit-like scent.
"I don't think it's a problem. It's fine."
"I hope so. But I'm going to go change my clothes. I want to remove my makeup."
"…So, where are you headed?"
"My house."
When Sayla said this, Yamato stopped moving immediately.
"Wha-Wh-wh-wh-wha…"
"I'm just going to change my clothes. I'll be right back."
"Eh…ah, I see what you mean."
Finally, Yamato understood the situation. He had almost embarrassed himself by making a strange, hasty assumption.
"We're almost there. That's the apartment right there."
It is true that you can see an apartment building — a large tower apartment building stretching out from between the buildings.
If she was living there alone, then Sayla's family must be very rich.
The building was so different from Yamato's house, and Sayla stopped in her tracks when she saw the whole picture.
"Shirase? What's wrong?"
As we lined up next to each other, I looked towards the entrance of the apartment building.
There was a woman standing there.
She was probably in her early twenties. She had a tall, slender body, with long black hair and black-rimmed glasses, which made her crisp, intelligent face stand out even more. She was dressed in a long cardigan and skinny pants that made her look like a mature woman, and even from a distance it was clear that she was incredibly beautiful.
The woman seemed to have noticed us and was standing with her arms folded. The expression on her face was somehow grim, giving off an unapproachable atmosphere.
"Is that person an acquaintance of Shirase's—w-wait!?"
When Sayla suddenly pulled him, she turned on her heel and started running.
Due to her strong grip on his hand, Yamato had to run as if he were being dragged by her.
"Oh, hey, Shirase! What's going on?"
"Change of plans, we'll just keep going."
"That's fine, but Shirase is wearing heels…"
"Ah!"
It was then that Sayla, who was running in front of him, stumbled and nearly fell.
—Pulls
Yamato managed to pull Sayla to him, but now her body was in his arms.
In other words, Yamato was holding Sayla in his arms.
(As soon as the misunderstanding of skinship is gone, this is what happens…)
Sayla's body was slender, soft, and slightly warm as she buried her face in my chest.
I could feel my heart beating really fast. I'm sure it's because I was running a while ago.
"…Are you okay?"
I asked, trying to distract myself, and Sayla looked up at me.
"I'm fine. Thanks to Yamato."
The beautiful eyes of Sayla, smiling up close, reflected Yamato's own face, and he felt as if he were being sucked in.
(Close… or rather, you really have a beautiful face, don't you? It's like a doll.)
Her big eyes, her long eyelashes shadowing the eyes, her well-defined bridge, and the thin, beautiful lips, all of them have a certain kind of beauty, and I can't help but be fascinated by them.
"Yamato? Are you sure you're okay?"
Yamato hurriedly came back to himself and let go of Sayla as she spoke to him.
"Yeah, I know. I'm sorry. I was just a little dazed."
"Did you feel weird again?"
"Yeah, yeah, I did feel weird—hey, don't make me say it…"
That's exactly how I felt, but I was too embarrassed to state it explicitly.
Then Sayla clasped her hands together apologetically.
"I'm sorry. Then, let's go."
"It's fine to go, but where are we going? Mostly, what's with that person?"
"I'll…tell you about that when we get on the train."
"I guess I need to get on the train now…"
"Where are we going?"
But now that Sayla had said this, there was no point in trying to find out.
Instead of accepting immediately, Yamato refuted with a condition.
"You can't run as fast as you normally can. Shirase is wearing high heels right now, and you might make a big mistake the next time you run."
"All right. I'll just do a light jog."
"You're just going to run…"
I feel like we're running away from the problem.
In fact, Sayla may have been running away from the woman who had just left.
Still, Yamato did not have the option of not accompanying her.
"Let's go."
He pulled her hand again and she followed him, shrugging her shoulders.
As soon as they arrived at the nearest station, Yamato and Sayla boarded the train headed downtown.
As it was just before ten o'clock in the afternoon on a holiday, the train was not that crowded. They sat down side by side on a vacant seat and breathed a sigh of relief.
"Ah, I was so surprised."
Sayla spilled her words in a relaxed manner.
"That's my line, you know. You left like you were running away from that woman, and I followed you without knowing why."
"I'm sorry. I'll explain it to you."
Sayla gave a small cough, and then slowly opened her mouth.
"She's my sister. I think she came to lecture me for leaving without permission."
With her outstanding figure and beautiful face that could be seen from a distance, it was understandable that she was Sayla's sister. Although they did not have the same facial features, their atmospheres were somewhat similar.
"Is this the sister who lent you the membership card for karaoke?"
"Well, that's something I borrowed without permission."
"I didn't want to hear that… So, when you say leaving, you're talking about your parents' house?"
"Yes. I've been over there since the holidays, but I couldn't seem to get out of the house for any length of time, so I just left without permission."
Thanks to that, she was able to attend the class barbecue, albeit late. Perhaps Sayla's family had strict rules.
"It must have been tough. But isn't she too strict, to come all the way to your house just to lecture you for prioritizing a high school class party over a family gathering?"
"Well, yeah. But that's the kind of person she is, she's not the type to go against the grain."
Yamato couldn't decide if he, a mere friend of hers, should get any deeper into Sayla's family situation.
When I was wondering how I should respond, Sayla smiled at me.
"But I think we'll be okay for a while. Right now, she's probably stuck in that area with a car."
Sayla's sister seems to have driven a car. According to the news on my phone, there is a massive traffic jam in this neighborhood due to their U-turn rush home.
"But is that the problem…? And where are we going now?"
I had no idea where we were going, so I asked, but Sayla paced around like a naughty child and said, "Don't tell anyone. You'll find out when we get there."
"I thought you were going to explain it to me when I got on the train."
Yamato said in an indignant tone, and Sayla replied as if she had no choice.
"We're on our way to my secret base. You'll have to wait until we get there to find out more."
Sayla said nonchalantly, and then started playing with her phone, as if she had no intention of talking anymore.
A secret base—the sound of that word sounds very appealing. In fact, Yamato was beginning to get excited with anticipation.
(What happens, happens)
Yamato thought, not in a throwaway way, but in a positive way.
He felt that with her, most things would be manageable.
Of course, there was no basis for this, but that was how much Yamato trusted Sayla.
After a twenty-minute train ride, we arrived at our destination station.
As soon as we passed through the ticket gate, Sayla started staring at her phone.
"…Where do you want to go?"
"Secret."
"If you don't even know where the secret base is, I guess I can't help you."
Sayla pointed to the direction of their destination without regard to Yamato's dismay.
"By the way, it was this way."
"No, not if you tell me after you check the map…"
Sayla turned away and started to walk.
(Come to think of it, I haven't walked outside at this hour since the first day I played with Shirase)
Yamato was walking behind her, feeling deeply moved, when he noticed that Sayla was heading toward the department store and stopped her.
"Hey, Shirase. It's already ten o'clock and I don't think we can go inside."
The department store ahead was not lit, and it was clear that it was not open for business.
So Sayla took out her handbook from her pouch bag, held it up, and said with pride.
"I'm fine. I've got this."
"…No, that's just a student handbook."
I put my hand on my forehead because I was getting a headache, and Sayla grabbed my free hand.
"H-Hey, Shirase!"
"Just follow me."
When she holds his hand, Yamato can't help but obey her.
I felt comfortable walking with her pulling my hand like this.
"Okay, I get it! Just follow you, right?"
I didn't let go of her hand, but rather squeezed it back.
When she got to the back of the building and reached the staff exit, Sayla showed her student handbook to the security guard, and he saluted her.
He allowed us to enter, and as soon as she was through the door, she pushed the button for the staff elevator without hesitation.
Yamato, who had been appalled during the whole process, finally found his voice and asked.
"Hey, what's this all about…?"
"Well, I guess I'm related to this place."
While I still had a lot of questions, the elevator doors opened.
"Here, let's get in."
She took me by the hand and took me inside, whereupon Sayla pressed the R button.
"Are we going to the roof?"
"Yes."
The rooftop here is different from the rooftop of a high school.
This is a department store, and it's not open for business right now. It's a bit of an anomaly.
As Yamato shrinks from the bizarre situation, the elevator begins to move.
It went up to the top floor without stopping and arrived at its destination, the roof, in the blink of an eye.
The door opened with a squeak of arrival, revealing total darkness.
"H-hey, are you sure we're in the right place?"
Yamato looked scared like a mob character in a B-grade horror movie, and Sayla smiled in amusement.
"It's the right place. It's dark, so watch your step."
After saying that, Sayla started walking again, pulling Yamato's hand.
The only source of lighting in this room was the green light of the guide lamp.
As they walked, Sayla turned on the light of her phone, but it still wasn't enough lighting.
However, a short walk brought us to a service entrance that connected to the outdoors.
Sayla took out a key from her pouch bag and unlocked the door.
The door opened with a clattering sound, and a night breeze blew in.
As soon as I stepped outside, my vision lightened up.
The moon overhead was hidden by clouds, and the surroundings were still dark due to the tall buildings, but it was still somewhat better than indoors.
It was too dark to see clearly, but I could make out the silhouettes of several objects in the distance.
"Could this be…?"
When Yamato's mind had an idea of where they were headed, Sayla separated her hand from his.
"Oi, Shirase? Where are you?"
The sudden loss of the faint warmth caused Yamato to look around, unable to hide his agitation.
"This way."
He heard Sayla's voice from a little far away, and as he turned to look in that direction…
Bang.
I thought I heard something that sounded like a machine working, and the area instantly became brighter.
I couldn't help but cast my eyes down at the glare, but I soon got used to it.
What filled my field of vision was an array of attractions illuminated by many small light bulbs.
In other words, this was a rooftop amusement park.
"Welcome to my secret base."
Sayla, who was standing in front of me, said with a happy smile.
"…Amazing. Amazing."
This is the first time I've ever seen such a thing. I had lost my words.
Under the night sky, the multicolored light bulbs illuminated rides that resembled animals, go-carts with characters, a small Ferris wheel that was probably the main attraction, and most importantly, an opulently built merry-go-round.
All of the attractions created a melancholic retro atmosphere, and I felt as if my tear glands were being stimulated just by looking at them.
Sayla, who was standing in the middle of such a space, proudly spread her hands and smiled.
"I wanted to show this to Yamato. I'm glad I was able to."
Her smile was gentle, but it also looked lonely.
Worried, Yamato moved closer until he was within touching distance of her.
"I'd like to thank you for showing me such a beautiful view. But Shirase must be a really capable person to be able to own something like this."
Sayla slowly shook her head from side to side.
"This department store was originally owned by my grandfather. And this amusement park is no longer in business. The park was closed on the last day of Golden Week two years ago."
That meant that this place was no longer open to the public. It's a miracle that it still exists.
"Even if it is, it's amazing. To have such a great person in your family."
"That's right. In that sense, it's amazing."
"Yeah. Do all these attractions work?"
"No, the Ferris wheel doesn't work, but the smaller rides do if you pay for them, and the merry-go-round is well maintained, so we can ride it together."
"Let's go for a ride!"
Yamato wanted to cheer up Sayla, who looked somewhat lonely, so he invited her loudly.
Sayla nodded her head with a smile.
"I'm going to get it ready, so please wait for me."
After saying so, she went into the private room for the staff set up beside the merry-go-round.
The merry-go-round is amusement equipment where horses move up and down on a rotating floor, and it seems that you need to turn it on via the control console.
Sayla seemed to have finished what she needed to do, and as soon as she came out of the private room, she pulled Yamato's hand and started to run.
"It'll be moving in ten seconds, so let's get on."
As Sayla urged him to mount, Yamato stepped onto the caramel-colored horse in front of him.
The merry-go-round began to move as Sayla rode beside him on the white horse.
The speed of the ride was quite fast, and the breeze felt good. It was as if I was riding a real horse through the orange lights, which naturally got me excited.
"Haha, it's really fun!"
Sayla smiled like an innocent girl. She seemed to like the merry-go-round very much.
Although there was no background music playing, Yamato's brain was filled with a peaceful tune. That's how cute the excited Sayla was.
(I didn't think a merry-go-round could be so enjoyable…)
Yamato's brain was in a state of complete excitement as he enjoyed the bliss of watching the joyful Sayla riding next to him.
It was over before he knew it, and when the wooden horse stopped moving, Sayla said with a twinkle in her eye.
"Hey, do you want to go for another ride?"
"…I'll be watching from close by, and Shirase can ride again."
"Okay."
There was only one reason why Yamato didn't want to ride again.
He wanted to watch her excitement from outside the fence as well.
The merry-go-round began to move again, and this time Sayla, riding in the carriage, looked very happy and excited.
A quick snap.
At that moment, Yamato took a picture of Sayla with his smartphone camera.
Then, Sayla noticed him and made a peace sign at him.
Another snap.
After capturing the scene on his phone, Yamato felt an incredible sense of happiness.
(I couldn't help but take a picture, but I'm glad Shirase doesn't seem to mind…)
Sayla waved, and Yamato waved back as he took a series of pictures with the camera on his phone.
The second merry-go-round was over in the blink of an eye, and Sayla came back as if she hadn't ridden enough.
"I never get tired of this merry-go-around, no matter how many times I ride it."
"You really like it, don't you?"
"Well, yeah. —By the way, you took a lot of pictures. Send them to me later."
"Ah, yeah, sure."
I was wondering what I would do if she asked me to delete them. Although, even if she asked, I probably wouldn't have done so.
Sayla then walked around, touching the go-carts and melody pets (the official name for vehicles that look like animals), and headed straight for the vending machines.
Yamato, who was following behind her, looked at them and asked.
"Are you sure you don't want to ride that animal thing?"
"Yes. It's a children's ride and if I get on it, it might break."
"No, I think you're okay. Though I'm not sure about myself."
"Fufu, I'm pretty sure Yamato would break it if he rode it. Which one do you want?"
Sayla asks me in front of the vending machine. Apparently, she's going to buy me a drink.
"I'll have a canned coffee with a little sugar to match the mood. A warm one."
"Are you trying to say that this place is austere? I don't mind."
When Sayla pushed the button for the low-sugar coffee, Yamato also put in a coin and asked.
"Which one do you want?"
"Mou, that makes no sense."
Sayla looked annoyed, but quickly smiled and replied, "Well, I'll take black."
"You're competing with me…"
Feeling as if he was being treated like a child, Yamato was annoyed and pressed the button for the black coffee (unsweetened).
Sayla took two cans of coffee from the outlet and offered the low-sugar one to Yamato.
"Thank you. By the way, Shirase is so mature to be able to drink coffee black."
"…Well, yeah."
There seemed to be a pause before she answered, but it was probably my imagination. The combination of Sayla and black coffee was strangely familiar to me, so much so that it was hard for me to imagine her disliking it.
When I opened the lid and drank a cup of coffee, I was greeted with a hint of sweetness and a bitterness unique to coffee.
(It's been a while since I had a cup of coffee, but I think I can drink this black.)
Sayla, on the other hand, as soon as she took a sip of her black coffee gagged in disgust.
"…Ugh."
Sayla stuck out her tongue and narrowed her eyes as if it was bitter.
Yamato was struggling to hold back his laughter. He knew that if he treated her like a child, she would try to drink it all.
It was surprising that Sayla could not drink black coffee, but I guess appearances are deceiving.
Perhaps because Yamato didn't laugh out loud when he realized this, Sayla didn't seem to want to force herself to drink it all.
Sayla turned her eyes away, looking embarrassed.
"I can't drink this. But it would be a shame to throw it away, so I want Yamato to drink it…"
"Eh, but, that's the one you already drank out of…"
It was nice to be asked to do something like this by Sayla, but it meant that she would have to kiss him indirectly. This is a difficult request for the naive Yamato.
While the naive Yamato was pondering, Sayla asked him directly.
"I don't mind, but does Yamato mind?"
"It's not that I mind it. It's just that I'm a guy, so I tend to worry about things like that…"
"I see, okay."
When Sayla was about to sip her black coffee again, I couldn't resist and changed my mind.
"…Nevermind, I'll drink it. I don't want Shirase to overreact."
"Thanks."
Sayla thanked him with a smile and handed him the can of black coffee.
There was a thin layer of lipstick on the mouth of the drink… As soon as he saw it, Yamato's heart began to beat intensely.
However, now that he had received the can, he couldn't back out.
After taking a deep breath to shake off any evil thoughts, Yamato drank it all in one go with determination.
"…Hmm."
…His first indirect kiss had a bitter, adult taste to it.
My heart was still beating fast, and my face started to heat up when I became aware of it. I try not to let my agitation show on my face, but I don't think I'll be able to regain my composure for a while.
Just then, I noticed Sayla glancing curiously at the other can in my hand, the can of low-sugar coffee. I guess her thirst had not been quenched yet and he was simply curious to see what it tasted like.
"Do you want some…? As long as you don't mind that I sipped some."
Since Yamato had already kissed her indirectly, he was able to offer it to her with some resistance.
"Yes, I'll drink it."
Sayla happily took the can and started drinking without hesitation. After all, Sayla didn't seem to care about the indirect kiss, and Yamato felt miserable thinking back to what he had just done.
It looked as if Sayla was distorting her face slightly, but I'm sure it was just my imagination.
—Potsu.
Then a raindrop fell on my nose. Apparently, it had started to rain a little.
"Do you want to come inside?"
"No. If we're going to take shelter from the rain, let's go over there."
Sayla pointed to a small Ferris wheel set up in the corner.
"I thought that thing didn't work?"
"It doesn't work, but you can go inside."
Sayla led the way and opened the entrance to the gondola on the boarding position.
"Look."
"This is the first time I've ever been on a non-working Ferris wheel."
"Weird?"
"No, not at all. I just thought it was an unusual thing to do."
This was the first time for Yamato to ride a Ferris wheel alone with a girl. The fact that his first experience was on a stationary Ferris wheel made him have complicated feelings.
But it wasn't that he didn't like it. In fact, he was rather grateful for this precious experience.
"Then let's get in. The rain is getting heavier, and you might catch a cold if you get wet."
Indeed, the rain was getting heavier than it was before. I didn't feel bad about getting caught in the rain, but I didn't want to catch a cold, so I followed Sayla into the gondola.
As we sat opposite each other, I noticed how close we were.
"It's pretty cramped, isn't it?"
"Right. I didn't think it would feel so cramped either."
Apparently, it had been a while since Sayla herself had ridden this Ferris wheel.
"…The floor won't fall out, will it?"
"It's fine. It's designed for families and couples to ride."
"H-Heh…"
When the word "couples" came out of Sayla's mouth, Yamato became strangely aware of Sayla.
Since I had kissed her indirectly earlier, I subconsciously looked at her lips and then awkwardly turned my face away.
But I was still curious, so I glanced sideways, and our eyes met perfectly.
"Is there something on my face?"
"N-No, it's fine. If I look suspicious, it's because I'm nervous… This is the first time I've been on a Ferris wheel with a girl."
I was trying to cover up my blunder, but I was in such a hurry that I ended up digging my own grave.
As I fumbled around, feeling sorry for myself, Sayla suddenly smiled at me.
"It's alright, I'm the same. I'm nervous too."
"Eh?"
Yamato was dumbfounded by this unexpected revelation.
Looking at the window on the facility side, Sayla continued.
"My grandpa told me a long time ago. 'If Sayla has a boy in her life, you should ride with him. You'll see a very beautiful view.' I wondered if this was what he meant, and I started to feel restless. It's funny, isn't it? The Ferris wheel doesn't move anymore, so you can't see the city."
Sayla spoke in a somewhat melancholy and nostalgic manner.
Yamato also looked out the window and was fascinated by the fantastic sight of the rain drops and countless lights.
"Yeah, It's beautiful."
"Good. Looks like we're seeing the same thing."
I turned my gaze back to Sayla, and our eyes met again. She had a carefree smile on her face, a complete change from earlier.
In this way, Shirase Sayla is always willing to be direct with me.
This trait of Sayla's is one Yamato admires and cherishes at the same time.
—He holds her dear.
With this renewed realization, Yamato decided to step into her situation.
"When I think about it, I know almost nothing about Shirase. Even though we've been spending so much time together. Like what she likes, how she spends her time when she's alone, and even… about her family."
When Yamato said this without averting his gaze, Sayla rolled her eyes in surprise.
After pondering for a while, Sayla slowly opened her mouth.
"If you ask me, we haven't really talked about it much. Where should I start?"
"Anywhere, just as long as Shirase is willing to talk about it."
Hmm, Sayla groaned, and then continued as if she had just finished thinking.
"My favorite thing to do is karaoke, and when I'm alone, I play games, read manga, and listen to music. I also like ramen. I dislike coffee with no sugar in it."
Listening to her like this, most of the information was something that Yamato knew.
Yamato rarely asked her questions, but as they spent more and more time together, Sayla was showing him more and more of her true colors.
As for what she didn't like, she was talking about now.
As Yamato listened to her, Sayla continued without hesitation.
"My father runs a trading company, and my mother assists him. My sister has been traveling around the world, but she recently came back to Japan. My grandfather used to be the owner of this department store, but he quit two years ago and left the management to my father, who now lives in the countryside."
Yamato was very surprised to hear this explanation.
Her father was the president of a trading company, which meant that Sayla was the daughter of the president.
[TLN: Don't ask, author-san said it, not me.]
Since a high school girl was living alone in a high-rise apartment building, he naturally thought that her family must be wealthy, but it seemed that they were a very influential family. This might have something to do with the fact that the teachers seemed to not pay a lot of attention to Sayla when she skipped class before.
"Your father is the president of a big company, Shirase is amazing."
"It's not amazing. It's not even my own achievement. Because right now, I'm still just a kid who can't do anything."
Sayla looked very pained as she said this. I almost hesitated to go any further.
But it shouldn't be a bad thing that a child can't do anything. At least for Yamato, it was normal, and Sayla, who felt frustrated about the matter, was a rarity.
Yamato thought about it and decided to ask her more questions.
"Can I ask you why you're living alone?"
He wondered if it had anything to do with her family.
Sayla answered with a small nod.
"I started living alone because… I don't want to be compliant, probably. It's basically like running away from home."
I wonder if by "be compliant" she means compliant to her parents. It seems out of character for Sayla, but if her current state is the state after she changed, then it makes sense.
I can understand why she is not on good terms with her parents right now.
This is something that Yamato would never have imagined before he asked her.
"I can't imagine Shirase being under behest. If she changed by her own will and became the way she is now through her own effort, then she's amazing."
When Yamato said this from the bottom of his heart, Sayla smiled happily.
"Thank you. I'm glad you said that."
Then Sayla turned her head down and started to talk nostalgically.
"By junior high, I was studying all the time and rarely had time to play. So when I was having a really hard time, I would come here and relax."
Being the daughter of a company president and spending all her days studying is a picture of a high class young lady.
It is understandable that she would describe it as "being compliant."
However, knowing what Sayla is like now, it is difficult to imagine what she was like then.
It is typical of Sayla to visit these types of places to relax, though.
"To be honest, I can't even imagine how difficult the experience was for you. But I can tell that Shirase has many memories in this place."
"Mmm. I have a lot of memories here, and this is an important place. —But this is over now."
Sayla lowered her voice and said the word over.
She looked so lonely that Yamato couldn't help but stand up.
"It is true that the business is already closed, but this place is still here. Why don't you come back here from time to time like this? If you want, you can invite me. I'll always go out with you if my schedule is free."
No matter how much I tried to cheer her up, Sayla's expression did not change.
Hence, I can't help but guess what is happening to this place.
"…Is this place… going to disappear?"
She nodded her head.
"When?"
"They're going to start remodeling next week. That's the longest it is going to stay"
Sayla said in a light-hearted tone of voice, but I guess she had something on her mind as her expression remained cloudy.
"Can't you do something about it?"
"I can't do anything. I couldn't bring in any customers. It has stayed for two years longer than it should have, and that's more than enough for me."
"Are you okay with that?"
"Yes. I'll miss it, but I can live without it now."
It seems that Yamato had misunderstood the situation.
It seemed that Sayla had already made up her mind about the destruction of this place.
This is why she came here today, for her final visit.
"I see. It's okay then."
"Yes."
"But are you sure you want me with you?"
When I asked that, Sayla looked up and made eye contact with me.
"Of course. I wanted to show Yamato a place that means a lot to me."
"Shirase…"
Sayla really cares for me a lot.
He was very happy about that. As Yamato bathed in his happiness, he asked himself if he could deserve to be so happy.
I wanted to reciprocate this feeling, I had come to this thought.
"I wish there was something I could give back to Shirase."
Yamato said as he sat back down again, and Sayla took out her phone.
"In that case, here, you got this for me."
The phone's case had a panda key chain hanging from it.
This is something that Yamato won when they went to the arcade and gave it to her as a gift. He had noticed that she was using it before, but he felt embarrassed when she mentioned it again.
"No, that's a little different…"
"It's a memory. It's important to me."
Yamato almost felt even more embarrassed when she said it so plainly.
"You may be right, but it's a matter of pride on my part. …I feel like I'm the one who's always on the receiving end from Shirase."
Sayla seemed to have reconsidered, thanks to the fact that I told her I was serious.
Then, Sayla seemed to have a flash of inspiration.
"You should take me to an amusement park sometime. I want to go to a really big one."
"Oh! Sure."
"I also want to go on a trip. I want to go to a hot spring and I also want to go to the pool in the summer."
"Oh, okay."
The requests came out more readily than he expected.
All of these requests sounded great for Yamato, but the only thing that concerned him was the financial aspect.
"I'd like to visit Yamato's house, too. I'm curious to know what kind of place you live in."
"No, that's…"
"I can't?"
Yamato's chest tightened up as she asked in a cute, pleading way.
"W-Well, if you want to…"
"Yay. I'm looking forward to it."
If such a thing would make Sayla feel better, it would be a small price to pay.
When Sayla looked out the window and poked Yamato's knee, Yamato also looked out the window and saw that the rain had almost completely let up.
"I think we should leave now."
"I guess so."
"…It won't open."
Sayla tried to open the gondola door, but she seemed to be having a hard time.
The lever on the inside of the gondola was rusty and didn't seem to go down easily, so Sayla stood up and tried to put her weight on it.
The gondola swayed unsteadily as Sayla stepped on it. It was almost as if she was getting slightly intoxicated.
"Hey, do you want me to take over?"
This is when his manly side came in and Yamato offered to take over, but Sayla half-heartedly said, "No, I'll open the door," and refused.
Yamato was watching with a smile on his face, thinking that she had a surprisingly childish side.
"Ugh~~ Haa—"
—Clank.
There, the lever suddenly dropped, and Sayla, who had lost her stance, fell toward Yamato.
She landed directly on Yamato's lap. Sayla had sat down on his lap.
(Th-this isn't good…)
Yamato felt the soft touch of Sayla's buttocks directly on him, which made him feel uncomfortable.
"I'm sorry, are you okay?"
"It's not okay. It's…"
I was in agony, and I was sweating like crazy.
Seeing Yamato's condition, Sayla immediately stepped aside and clasped her hands together apologetically.
"I'm really sorry. I know it hurts. Can you stand up?"
Sayla held out her hand to him, and he took it, but he had to bend down to stand up. It was a boy's dilemma.
[TLN: She hit his balls]
The gondola door opened for the first time, but instead of feeling relieved, Yamato felt awkward.
As soon as they left the gondola, Sayla nodded her head in affirmation.
"I knew the lever was rusty. You can clearly see it from the outside."
"The next time you have to do something that requires a lot of strength, leave it to me. Shirase is a girl, you know."
"I've taken aikido and I'm confident in my strength."
It seems that Sayla had some knowledge of martial arts. I wondered if it was part of the lessons she had taken up until junior high.
Even so, it is one thing to have a martial arts background, and another to have simple arm strength. No matter how strong Sayla was in aikido, Yamato as a man would have more arm strength.
Therefore, it is necessary to firmly point out the facts here.
"Even if that's the case, make sure you rely on me. I don't want Shirase to get hurt."
Although I said it in a cool way, it was really to prevent events like the one I just described.
Yamato exaggerated his explanation, and Sayla, unawared, nodded reluctantly.
Then, Sayla suddenly looked up above her.
"It's stopped raining."
Sayla was right, the rain had stopped completely.
The wet floor was reflecting the light from the bulbs, which added to the fantastic atmosphere of the place.
As Sayla walked through it, she looked back.
"But the floor is wet, so be careful not to slip."
Normally, it would have been the man's role to warn her like that.
But he was getting used to being led by Sayla in this way.
"Shirase, you are really cool."
"Eh?"
Sayla tilted her head curiously. It was sudden, so it was understandable that she was surprised.
As if to explain his reasoning, Yamato continued in a sincere manner.
"You're always taking the lead, very straightforward, and not afraid to tell anyone what you think. In a pinch, you can be more dependable than I could ever be as a man. …I really think it's very cool."
Despite all the reasons I've given, Sayla frowned, looking unconvinced.
"You're not happy?"
"It's like, I just showed you something uncool, and now you're praising me."
It seems that she is still reeling from the Ferris wheel incident. This is a matter that Yamato does not want to dig up too much.
"And…"
Sayla added.
"Isn't Yamato the one I've always counted on in times of need?"
Even though it was said so casually, Yamato had no idea what she was talking about whatsoever, so he didn't feel as if he was being forced to be flattered.
"It's okay, you don't have to force yourself to care. …It hurts instead."
"It's not. And it still is."
"What do you mean?"
Sayla was unusually reluctant to speak, but she said it as if she had made up her mind.
"I was actually afraid to come here. I felt like I was going to lose a lot with this place being removed."
She looked straight at Yamato and continued with a blank expression.
"But since Yamato came with me, I was able to find the courage. …See, Yamato is dependable, and I'm not cool at all."
By the time she finished, her eyes were downcast.
He had never imagined that Sayla thought that way, so Yamato replied while his face was on fire.
"Well, that's not why Shirase isn't cool. She was able to rely on someone, and she was even able to summon up the courage she needed in the end."
"You think so?"
"Yeah. Shirase is a cool person. I guarantee it."
Sayla looked puzzled in front of Yamato, who had said it without hesitation.
Then she took a few steps forward and looked at the merry-go-round.
"You know I was riding a white horse just now, right?"
Is this related to the story of a prince on a white horse? Indeed, the white horse suited Sayla very well.
"Well yeah. It's frustrating for a man, but it fit you more than it fit me, and you were so happy while riding it."
I thought I had praised her, but she looked annoyed.
"Shirase?"
However, when I called her name, she immediately smiled and turned around to look at me.
"The next time we ride together, Yamato should ride in the front."
Sayla's back was illuminated by the lights as she said this with a big smile on her face.
It looked like a halo, and I couldn't help but think of the day we first talked.
(After all, she looks like a saint, doesn't she?)
Yamato smiled and replied, remembering the events of a few weeks ago.
"Oh, if you want to ride together, of course I'll ride in the front. I'll be the next prince on the white horse!"
"Fufu, I'm looking forward to it."
I felt embarrassed after I said it, but I didn't regret it because I could see her happy face.
Sayla doesn't look so lonely anymore.
I guess it's because we promised to make new memories together in the future.
"Thank you, Yamato."
"Yeah, thank you too."
After thanking each other, Sayla said, "I'm going to go turn it off," and walked off to turn off the circuit breakers that connected to the lights in the area.
"Are you ready, Say-chan?"
Just as I thought I heard such a voice from indoors, a beautiful woman with long black hair — Sayla's sister appeared.
"Eh, you're here."
Sayla frowned, looking unhappy.
Sayla's sister approached her slowly.
"I only just got here, though. Anyway, did you think that if you ran away, I wouldn't know where you were hiding? You're the kind of sister who makes me go through a lot of trouble."
"The one who's chasing me is just as bad…"
Sayla gave her sister a decapitating blow. While Sayla turned away from her sister in a sulky mood, Sayla's sister said with a sigh.
"You're still talking too much. And what time do you think it is? It's the time of day when kids aren't supposed to be out, do you know that?"
"…"
"For starters…"
"Umm."
And then Yamato interrupted her.
I was well aware that I was an outsider, but I didn't want to just stand by and watch.
Sayla's sister seemed to become unhappy at the interruption of her sermon, but then she looked at him sideways with a puzzled look on her face. She seemed to be waiting for Yamato to continue what he was saying.
Making up his mind, Yamato said without averting his gaze.
"I go to the same school as Shirase, and my name is Kuraki Yamato. And, well, today's incident was not only Shirase's fault, but I am also responsible for it. So please don't scold Shirase too much."
After she finished listening to Yamato's words, Sayla's sister asked with a blank expression.
"Are you her boyfriend?"
"No, I'm not…"
"So a friend. —I'm her sister, Shirase Reika. It's late, so I'll take you home. We can talk about the rest in the car."
With that, Sayla's sister, flashed me a wink.
This time, Yamato was more puzzled than he was at the start, but he and Sayla followed her quietly.
"Oh, so Yamato-kun is the same age as Say-chan. I thought you were younger than her."
In the car driven by Reika. For some reason, Yamato is seated in the passenger seat and is being questioned excitedly by Reika, who seems to be very interested in their relationship.
"Hahaha…do I look that young?"
"No, no, it's just that my little sister is old-fashioned!"
"I don't want to hear it from you, nee-san."
Sayla interjected from the backseat in frustration.
But the atmosphere in the car was not tense at all. The nerve wracking exchange on the rooftop of the department store seemed to be a lie.
Reika had a different personality from the impression given by her intellectual appearance, she was boisterous and extremely cheerful. To put it bluntly, she was the type of person Yamato was not fond of.
For this reason, Yamato felt even more awkward, but Reika was unconcerned and kept on asking questions.
"Yamato-kun and Say-chan had never even talked before they were in the same class. Are you aiming to be her boyfriend?"
"I'm not aiming for it. And I'm not that presumptuous."
"Pfft, Say-chan is thought of so highly. Then she doesn't have many friends, does she?"
Yamato replied, wondering how much he should tell her.
"Not many, or maybe it's just me. Everyone thinks Shirase is a solitary saint."
"Pfft! Say-chan, a saint? …Today's high school students are interesting. So this unsociable oddball is a saint~ It's true that this girl is perfect, if only in appearance."
"I'm going to sleep now, so please lower the volume of your voice."
Sayla, who was sitting behind me, was completely unhappy at their conversation. Yamato felt a little remorseful, wondering if he had talked too much about this.
For a while, a strange silence prevailed in the car.
"Look, she's already asleep."
Reika suddenly opened her mouth while I was still thinking, and I saw that Sayla was indeed breathing softly in her sleep behind me.
It was a rare opportunity to see Sayla's sleeping face, and it was soothing to see how cute she was.
However, Yamato immediately turned his gaze to the person next to him and asked.
"Um, aren't you supposed to be mad at me?"
This was something that had been bothering me since before we got in the car.
In the first place, what does Reika think of Sayla? From the conversation in the car, it didn't seem like they were on bad terms, but I still couldn't make a conclusion without hearing her side.
"I'm not mad at you. Earlier, I was just giving her the bare minimum of an adult sermon."
"I see. If that's the case, why were you waiting in front of Shirase's house?"
"Of course I was there to lecture her. She didn't even listen to her parents, and she left the house without permission."
"But it was to attend a high school class party. I even made reservations for her at the store beforehand."
"I don't care what's going on over there. At least, my parents don't. Our situation comes first, and it's up to us to decide what to do. That's the kind of parent we have."
There was a part of Yamato that wanted to say that such things were arrogant or selfish.
But first, I was curious about Reika's somewhat outsider attitude. It was Reika herself who had come to give the lecture, but she seemed to be saying that she had other intentions.
"Onee-san, whose side are you on?"
That was the question that naturally came out of my mouth.
Reika seemed a little surprised, but quickly smiled.
"I'm not taking anyone's side. It's that, I'm just here to do what my father and mother told me to do. Say-chan—my sister, still held their expectations."
"Expectations?"
"Yes. You may not know it, but this girl is really amazing. She's always been talented at piano, ballet, tea ceremony, flower arrangement, aikido, you name it, she's done it. It's the same with her studies. If she had really put her mind to it, she would have easily been accepted at any high school. She's what we call a genius who can do anything."
This was information that Yamato did not know either. He thought he knew that Sayla was good at everything, but it seems that she was a "genius" far beyond his expectations.
Looking across at the appalled Yamato, Reika continued in disgust.
"But being a genius can be lonely at the same time. It's normal to be afraid of things you don't understand. And when this lonely girl lost the place in her heart, it's only natural that she would be led astray."
The "place in her heart" that Reika mentioned must have been referring to the rooftop amusement park in the department store where they had just been. And in this case, the "loss" must be referring to the closing of the park two years ago.
When I think of it that way, I can understand why Reika is talking as if it were a good argument.
However, I couldn't bring myself to deny Sayla's eagerness to have fun.
"It's true that Shirase may be different from ordinary people. But I won't leave unless Shirase rejects me. Also, if Shirase really tries to go astray, I will stop her."
When Yamato told her straightforwardly and half rivalrous manner about his feelings, Reika smiled gently.
"So you're saying that you're going to be her special place this time?"
"It's not like that. There is no substitute for that place, and I just want to be involved with Shirase myself."
For Yamato, continuing to be involved with Sayla is the first "thing" he has found that he wants to continue to do.
Yamato is not the kind of person who would give that up so easily.
When she heard Yamato's statement that could be considered a declaration of his determination, Reika sighed heavily.
"That's just the kind of embarrassing thing you two to say to each other earlier. You really are great 'friends.' "
"Um, from where have you been listening from?"
"Who knows. I hope this doesn't end up being a youthful indiscretion."
Then the car stopped. It seems that we have arrived near my house.
"Hey, Say-chan. Your boyfriend's leaving."
"You don't have to wake her up."
It's a little awkward for Yamato to have Sayla wake up now, since they were just talking about something he didn't want her to hear.
"…Mmm~, already there?"
That's when Sayla woke up.
Perhaps it was because she had woken up from sleep, but her face was rather red. She was still sleepy, and wouldn't even look at me.
"I'm sorry to wake you up."
"No, thank you for today. See you tomorrow."
Sayla then leaned forward and touched Yamato's cheek.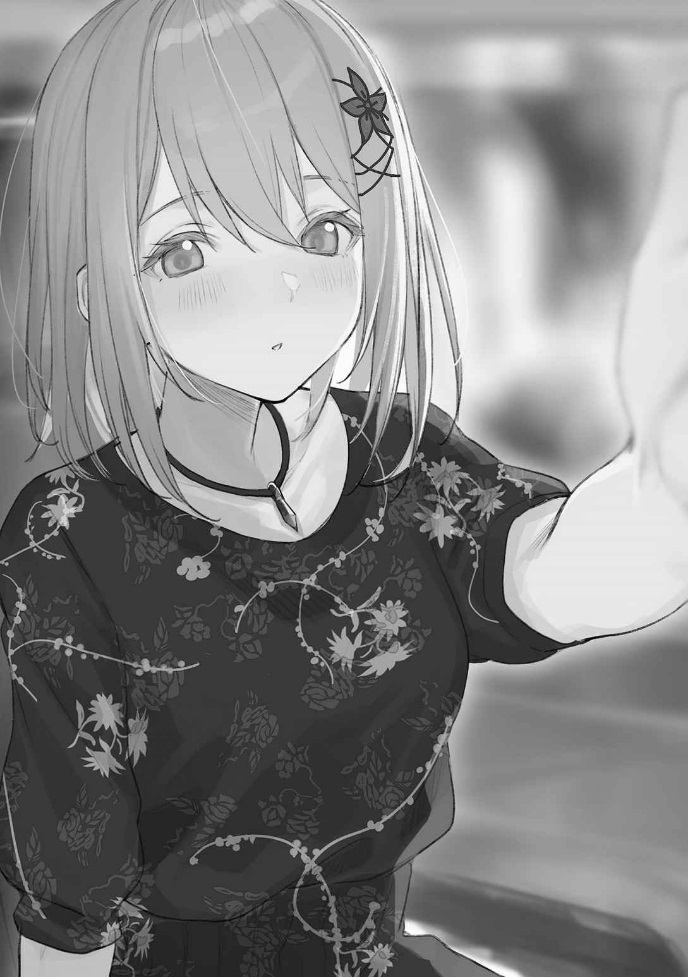 "O-Oh…? See you tomorrow."
Thinking that she might still be sleeptalking, Yamato gets out of the car.
Then the window opens and Reika says with a meaningful smile.
"Well then, take care of my sister in the future. I'll see you again. Good night."
"Ah, yes, thank you for giving me a ride today. Good night."
…Yamato's true feeling was that he didn't want to see Reika again if possible.
As he followed the departing car with his eyes, he saw Sayla waving at him from the rear window.
Yamato naturally waved back, and when the car was out of sight, he let out a sigh.
Too many things had happened today alone, and I felt so tired. I felt like collapsing into my bed right now.
"I have school tomorrow, huh?"
I immediately regretted saying that, but when I thought of Sayla's parting words, "see you tomorrow," and the touch on my cheek, I felt a whole lot better.
Last year, on the last day of the consecutive holidays, I was so anxious about going to school for the first time the day the holidays ended that I couldn't sleep at night.
Compared to that, I can confidently say that I feel very content now.
"All right, I'll see you tomorrow."
Yamato said as if getting into the spirit and started heading in lightly.
Comments for chapter "Ch. 8: Midnight Merry Go Around"
NOVEL DISCUSSION