Caste Crusher Tsukimura-kun - Chapter 1 Part 2
"U-Umm…Right…"
It was right after I had done my little trick and rushed into the classroom and long homeroom was over. Onodera, the Japanese teacher in charge of our class, suddenly froze for some reason.
"Mm…?"
Of course, I immediately sensed the abnormality.
Onodera was a young teacher in his second year since being officially hired. He was a long-faced, bespectacled man who was currently the advisor of the volleyball team.
As a teacher, he does not have a good reputation.
In particular, he has a poor reputation among the girls.
Kanade describes Onodera as "very wary of me and always trembling when I talk to him," Shizuku said with some conviction, "Maybe Onodera-sensei is afraid of girls," and another good friend of ours, Yakushiji Koko, said with a cloud over her face, "I feel strange when he only calls me by my first name."
I was — well, let's not say this.
I believed that Onodera's troubling treatment of me was actually one of the problems related to school caste.
"C-Chiyoda!"
—And the freeze came to an end.
Onodera-sensei raised his voice with a determined expression. The diffused gazes of the entire class come back again to the teacher in front of the podium.
Onodera-sensei said.
"Umm…Hasunuma-sensei told you to come to the student advising office during lunch break."
At that moment, the air in class 2-2 felt as if it had been turned upside down with a zap.
Student Advising Office.
Not a peaceful place for a student.
"What!? W-Why, am I…?"
Shizuku asked Onodera-sensei as she got up from her seat.
"N-No, even if you ask me…"
"But I won't know why unless I ask Sensei!"
"Ugh…"
Onodera-sensei took his gaze off Shizuku for a moment and continued, looking troubled.
"I-I heard that there was a problem with the bag…"
"…!"
Shizuku gasped when she heard the word and glanced at me.
Our eyes met.
I knew this would happen. I had prepared for it. I shook my head. Shizuku responded with a slight nod of the head.
Then Shizuku returned her gaze, her chest heaving, and said in a quiet voice.
"Is this the bag you mean?"
Shizuku grabbed the handle of a bag that was hanging next to her desk and held it up in front of her face — a standard school bag made of nylon.
"Heh…Hmm? Eh?"
Onodera-sensei's eyes widened.
He thrust his head forward a little like a giraffe and pushed up the bridge of his glasses with his finger.
"Hmm, that's just a regular bag…"
"Right? I didn't do anything wrong."
"Looks like it…"
After about three glances at the school bag held up by Shizuku, Onodera-sensei stopped again.
"I-I see…Okay…Yes…"
His mumbles were not on the point. His gaze scattered around.
It was not a freeze, he was already malfunctioning.
What's more—at that moment, Onodera-sensei's gaze was drawn toward me.
…So this was how it was going to be. Good grief.
"Onodera-sensei, may I?"
"Ah…"
When I called out to him, he looked up with a jolt.
—with clinging, hopeful eyes.
"Shizuku said this bag was normal, and I think it would be better to fact-check with Hasunuma-sensei once. Maybe he mistakenly saw it differently…"
"A-Alright…I'll go ask Hasunuma-sensei…"
"Yes. I don't think we can figure anything out here."
"Y-You're right! I'm sorry, Tsukimura!"
Onodera-sensei let out a big breath.
"U-Umm…m-my bad, Chiyoda. I'm going to ask Hasunuma-sensei about it… Well, I'll also tell him that maybe he was getting the wrong student…!"
Onodera-sensei announced so without a breath, and then, carrying his textbook, he walked out of the classroom as if he were running away.
Today was early June, but the temperature was still low. However, Onodera's cheeks were reddening as if he had been infected by summer.
"…Haaa."
Onodera actively appeals to me and basically affirms everything I say.
The reason was that I'm at the top of the school caste in this class.
He believed that as long as he followed what I say, he could maintain the class atmosphere and his own reputation to some extent.
Recently, however, this tendency has escalated to the point that whenever a problem arises in class, Onodera waits for me to say something instead of thinking for himself — a complete state of "waiting for instructions."
He has learned that he could handle various problems without making waves by doing so.
Onodera took the initiative to incorporate himself into the school caste—He was the type of teacher who slid right under the student's nose.
(An easy way to get by, I suppose?)
I wonder if that was also a skill to survive as a teacher in this school space. I felt a little gloomy when I saw a respectable "adult" who was seven years older than me act like this.
Seconds after Onodera left, the classroom of class 2-2, where time had stood still, was once again bustling with activity.
"That was close! It really happened just as Hibiki predicted!"
Shizuku, who was the person in the middle of all this, rushed up to my seat in a flurry. But that was not a very desirable reaction.
I immediately put my fingertip to my lips to calm Shizuku down.
"Shizuku, you're too loud. That's like confessing, 'I was doing something bad after all.'"
"Ah…I-I see!" Shizuku looked huffed and held her mouth. "I have to have the attitude that the teacher has placed false suspicion…"
"Well, actually, it's not a false suspicion at all, you were in the wrong…You'll have to feel sorry for Onodera-sensei, though."
"Y-Yes. You're right…"
Shizuku's expression was clouded.
As a result, we were able to escape pursuit with a little trick, but Onodera-sensei was humiliated when he called out Shizuiku in front of the class.
The aftertaste was not good, and it should not be a tale of valor.
—In fact, there must have been a better solution.
Resolving the problem without hurting anyone—Somewhere out there, there must be a way that the most popular manga artists are good at coming up nowadays.
(…Not yet, I have not gotten there yet."
Shizuku made it through the pursuit without incident, but Onodera was the only one to suffer a loss.
It was impossible to shake off the bad aftertaste.
"Shizuku. Next time, you'd better ask your father to show you the price tag on your gift."
"Yes. I will definitely do that…"
"By the way, did your father tell you how much he won in horse race gambling?"
"No idea. He returns the money he pulls out of the register and the rest…I don't know. Ah, so that's why Papa throws away the price tag…w-what a sly adult he is…!"
"…I think you need to have a family meeting to discuss all of this."
"Yes! I'll definitely do that today!"
With renewed determination, Shizuku clenched her fists tightly. Probably tonight, it will be raining blood at the Chiyoda house.—
And then familiar faces came rushing in.
"As I thought, something strange has happened."
The first to open her mouth was Kanade, who also knew the situation. Kanade appeared with her high-tone dyed brown hair, her arms crossed, and a scowl on her face.
If I had to use a metaphor, it would be "quiet anger."
Kanade, who was originally known for her coolness, has the effect of tightening the atmosphere of the room.
"It's not that brand-name items are completely prohibited at my school, but they are very strict about bags. They stand out and are easily recognized. I mean, it's easy to tip them off when they know how much it costs."
"I'll reflect on that… I hid it right away, but I didn't realize that there were other students besides Kanade who could tell the price of a LOW LOVE bag in an instant…"
Shizuku also crossed his arms to match Kanade.
When Kanade did it, it only tripled her intimidation, but when Shizuku, with her ample bosom, did the same pose, there was a hint of eroticism in it.
And then—
"Shizuku! Is there something wrong with student advisors? Are you okay?"
"Hey, hey, Chiyoda. That bag is one of the standard school ones. Why…are you using that one?"
—We were surrounded by more people.
Although it was only a momentary event, the students and teachers were engaged in a fierce exchange of words, and there were several disturbing words flying around. It seemed that it attracted a lot of attention.
One girl and one boy showed up.
Both of them are classmates that Kanade and I usually hang out with in this class.
The girl's name is Yakushiji Koko.
The boy's name is Fujishiro Ryosuke.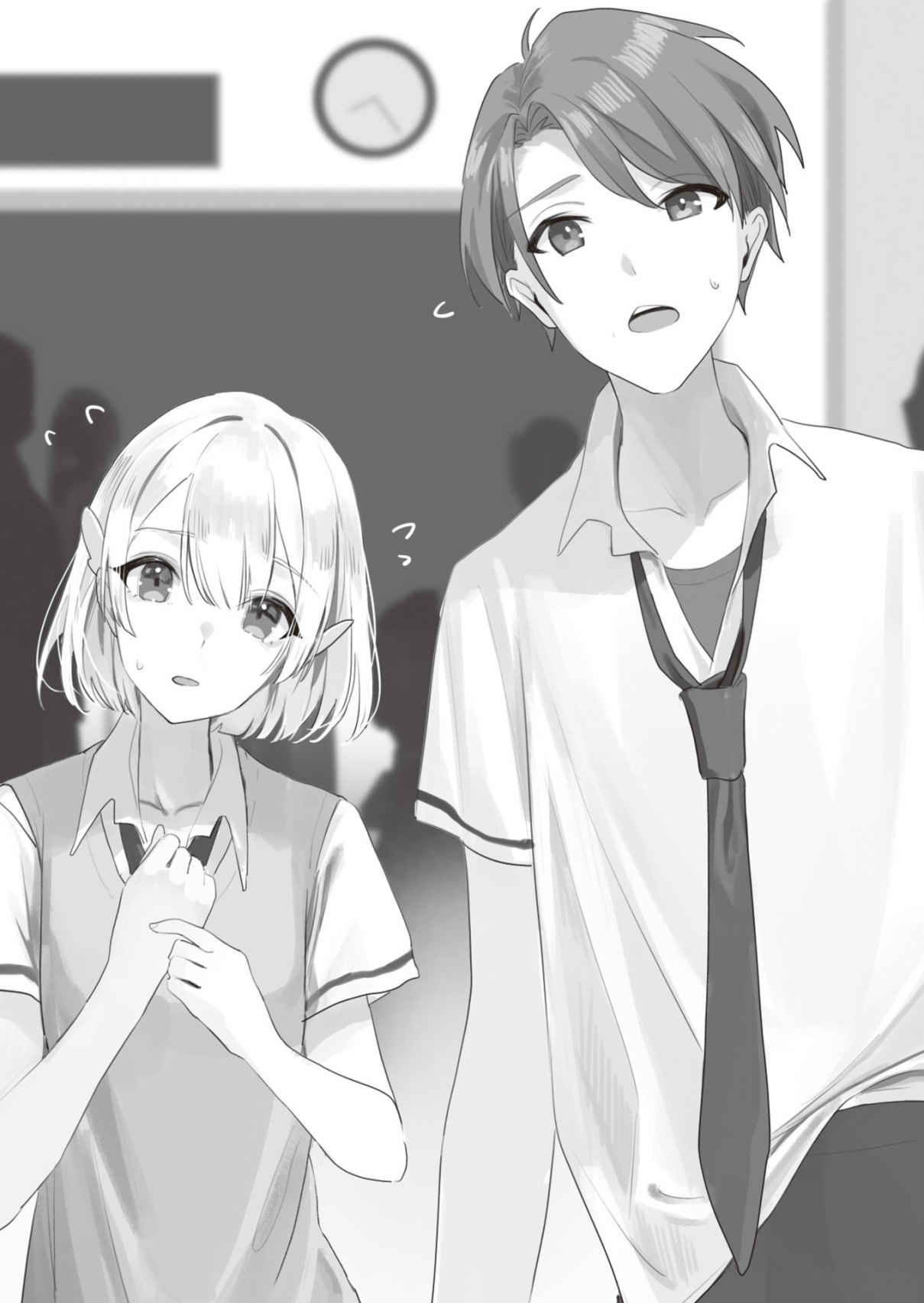 Like us, these two are naturally positioned at the top of the caste in this class.
"Well, Shizuku got careless and came to school with an expensive brand bag just in time for the uniform change."
For the sake of the two who didn't know what was going on, I decided to explain.
Ryosuke looked a little surprised.
"A brand bag? Vuitton? Hermes?"
"No, it's not that kind of crazy bag. It was one that looks like it could pass for a school bag."
"Really? There aren't many brand-name school bags for girls to carry. How much did it cost?"
"50,000 yen."
"…Hey, that sounds like a lot of money."
Ryosuke frowned.
"50,000 yen. My bag is only 2,000 yen. Even if you're a girl, no, no…50,000 yen. Normally, would you normally buy a bag just to take to school with 50,000 yen?"
"Ryosuke, you are overemphasizing the price."
Shizuku uttered in dismay.
"No, because 50,000 yen…?"
"I could buy it if I worked fifty hours for a thousand yen an hour?"
"If I had that much time, I would dance and then play APEX."
"…Ha. It seems those boys really like that game."
No wonder Shizuku was taken aback. Ryosuke was just like a high school boy who lives on "dance" and "FPS."
Ryosuke was the second-year leader of the Hachioji Municipal High School Dance Club.
The Hachiko Dance Club was known for its rigorous training, but it was also known that the boys play FPS all the time with other members of the club after club activities, perhaps to take a break from the rigorous training (And because many of them have high physical specs, there are quite a few who rank higher than the guys in the manga and game clubs).
Of course, I also enjoy this kind of game to some extent. However, it would be difficult to say FPS in one word and not be able to apply the skill completely. I'm mainly a smartphone gamer, so when I play on a console with Ryosuke, I'm only able to fill in for the squad.
Shizuku pointed out, to which Ryosuke responded without any apology.
"I'm used to girls giving me the white eye in the club. But I think people are more likely to look at you if you bring a bag that costs 50,000 yen, right? If you bring a bag like that to school, it's going to be the talk of the town."
"Yes, yes. I was immediately tipped off."
"…I knew it, the girls at my school are so scary!"
Ryosuke scowled.
—Snitching from someone outside the group.
Even though this was a common occurrence at Hachiko, Ryosuke was probably surprised at the speed of this event. This unrelenting sense of violence was overwhelmingly stronger among the girls than among the boys.
"But I got the gist of the story. After all, it all started when Shizuku brought an illegal bag. Shizuku is the bad person, and the snitch has their justification…"
"Haa? Please don't use anti-social words! I may have violated the school rules, but I didn't violate the law. And by the way, I didn't bring that bag because I wanted to okay?"
Shizuku dared to use a strange ending and said it in a uselessly cute way.
However, the content was full of twists and turns.
"No, no…If you bring a bag that violates the law, that's even scarier… What's in it, that is. And it doesn't make sense that you didn't want to bring it…"
"…No, that's true. The bag that Shiku brought was a gift from her father, and she didn't even know the price."
"Oh, so that's how it is. That's—"
The next moment, Kanade blurted out.
"But the trouble is, Shizuku's bag was purchased with the money he got from gambling."
"W-What the heck!?"
Ryosuke's eyes widened.
I was the one who helped her out, and Kanade joined the conversation and added her own facts to the mix.
—But that was in a bad way.
"…Kanade. Can we stop with the confusing statements?"
"But it's true, isn't it?" Kanade said without a trace of apology. "It's a big gamble."
"That's true, but…Shizuku will be misunderstood, right?"
"No, it's kind of funny, at least in my opinion."
Shizuku smiled happily.
What a surprise, she gave her OK.
"And, gambling…"
"T-That bag is still dangerous…!?"
I glanced at Ryosuke and Koko, who was also unaware of the situation, and they seemed greatly surprised.
Goodness.
I wished she would be less prankish.
"Don't be fooled by them. When I say gambling, I don't mean black market casinos or anything like that. It's just horse racing."
"Heh…?"
Horse racing…Ah, is it the Yasuda Anniversary? It was yesterday, right?"
Koko asked, looking convinced.
"Y-Yasu…? Um, okay. Yeah, I think that it was Yasuda."
Shizuku shook her head.
"My father won the jackpot and bought it for me with the dividends."
"Oh, really? That's amazing!"
"I'm more surprised that Koko knows about horse racing…"
"Is that so? I got hooked on an anime about horse racing a while ago, and I just learned a little bit about it. I haven't been able to put that knowledge to good use."
For some reason, Koko sighed with a faraway look in her eyes.
I didn't understand what the look on her face meant, but — well, I guess there are a lot of things to it.
Nevertheless, this explanation seemed to prove that Shizuku's bag had not been purchased with suspicious funds.
Ryosuke nodded his head several times and looked satisfied.
"If that's the case, say so. But 50,000 yen…"
"Ryosuke, are you still going to say that?" Shizuku gave a white eye to Ryosuke who was concerned about the amount of money. "Well, I agree that 50,000 yen is a lot of money! I could buy fifty loaves of bread from my store!"
"A thousand yen a loaf of bread is also a crazy price…"
"It's okay because it tastes so good!"
"Is that so? Breads are all pretty much the same…"
"Haa—? You're picking a fight with a baker's daughter? You know, people start queuing up 30 minutes before the bakery opens. Michelin inspectors have been here before, you know?"
"Eh. Chiyoda's parents' house was on the Michelin list?"
"…No, well, yes. The surveyor came, but he didn't get a star. I don't know."
"Come on. Not even one star?"
"It's not 'come on'! Just having one star is great, and just being the subject of a survey is something to be proud of! Do you understand!?"
"S-Sure…"
Ryosuke, under the pressure of Shizuku, hung his head.
I knew this would happen if she was stingy with Shizuku, who has a strong love for her parents.
However, no matter how delicious it is, a loaf of bread for 1,000 yen was indeed a violent price, in my opinion, too…Whatever.
"—Anyway. The bag that was given to me as a gift with beautiful money was hidden in my locker, and in consideration of the possibility of student advising, I prepared a replacement bag in the purchasing department.
I summed up this trick in an explanatory tone.
Then when it stopped, it started moving slowly, as if it were pushing a pulley.
"I see. But is Chiyoda okay with it?"
Ryosuke asked. Shizuku answered curtly.
"What do you mean?"
"I asked you earlier…that bag is not supposed to be used by girls, right?"
"Ah."
Shizuku looked annoyed at Ryosuke's question.
"Because I had no choice. This bag was the only one I could use as a double. Most of the people in the class would have realized that there was no way I would use this bag."
"I guess that's true. I'm glad Onodera is not in charge of student advising."
"Yeah. If Hasunuma-sensei had been in charge, she might not have been able to get away with this."
—The girls who use the standard school bags are lame as hell.
This was one of the negative traditions that have been handed down in Hachiko over the years and form the school caste culture.
While brand-name school bags may be subject to student advising, there was another item that Hachiko's female students traditionally refrain from using.
That was the nylon shoulder bag from the school supply catalog that she used this time as camouflage.
It seemed that Hachiko girls who use this were "not good-looking" without question, and it was treated as a super destructive weapon to the extent that they are judged as "shady" with a single shot.
Not just in the Heisei era—But all the way back to the Showa era.
But this was a strange talk. In other schools, even female students who look like models use the exact same bag.
But that was just the way it is. The girls at our school do not think there was anything wrong with the design of the ordinary school bag.
It was simply because it is the custom to do so.
This tradition was instantly shared among the girls, like a contagious virus, as soon as the first-year students enter the school.
Therefore, it was customary that by May, students who use the standard school bag become extinct, except for the "loneliest students" who have no friends at all, or the "bottom group" who were at the bottom of the school caste, for lack of a better word.
And there — Koko said as she gazed at the bag hanging next to Shizuku's desk and bit down on it.
I've always thought of it as the bag that students take to school. It's lightweight, sturdy, and pretty easy to use. Yes, it is. Shizuku-chan, why don't you and I start using the same bag tomorrow?"
—It was one of the few opinions of the students who still use that bag.
"N-No…we might want to refrain from that…"
"Ehh? We can't?"
"Because, well, Koko is a little bit special here."
"Wah. Shizuku-chan is making me an exception again like usual…Kanade-chan, help me!"
"Mmm…No, indeed, you are an exception. Your existence itself is a mutation."
"I'm not a monster, though."
"It's okay. Koko is not a monster type, but rather a fairy type."
"And she is like an elf, right? Like in The Lord of the Rings."
"I am neither a fairy nor an elf. I don't have pointed ears, I don't have wings, and I've never shot a bow."
"Why don't you practice? Like Legolas."
"I definitely don't think it's right to go for the elves on my end, Shizuku-chan."
I was also thinking deeply that Shizuku and Kanade were right in my heart as I stared at Koko and they were joking around.
The very existence of Yakushiji Koko was very special — she was a shockingly beautiful girl.
Anyway, she simply…looks too good.
Trouble was, I couldn't describe it any better. When I see Koko, the vocabulary for praising any form of modeling dies in my brain.
Therefore, Koko was allowed to do almost anything. Even if she always used a nylon school bag, which even Shizuku hesitated to use, no one would call her lame.
In fact, Kanade and Shizuku were also beautiful girls with impeccable features, but Koko was still on a different level.
It was too much of a stretch.
To reach the girl named Yakushiji Koko.
"—Hmm?"
It was then. I noticed something strange.
"…"
I would like to focus again on the reason why we are gathered like this now.
It was because Shizuku had a quarrel with Onodera-sensei over her school bag, and Koko and Ryosuke, who did not know the situation, came to us and asked us for an explanation.
The three girls were still talking about the school bag, and the conversation was derived from there, and now Shizuiku was telling Koko to watch "The Lord of the Rings".
Shizuku loves dramas and movies.
I had a suspicion that the purpose of Shizuku's frequent elfish treatment of Koko was to propagate "The Lord of the Rings" to her.
Koko has been running away from this, saying "a trilogy of movies all over 3 hours is too long" or "I'll watch it if it becomes an anime", but I think it was time for her to pay her dues—
"…"
But then.
At this time, Ryosuke was the only one who did not even look at the girls who were talking, but rather he looked somewhere else.
(Where are you looking, Ryosuke…?)
—Something was wrong with Ryosuke.
I noticed that he was not joining the conversation at all.
All that leaked out of his mouth was a series of curt replies that made me wonder if he was really listening to the conversation, and his attention was clearly somewhere else.
Somewhere else. Somewhere else in this class.
(Our class has thirty-two students…)
Tsukimura Hibiki.
Makita Kanade.
Chiyoda Shizuku.
Fujishiro Ryosuke.
Yakushiji Koko.
The conversation about the school bag was already over and the conversation was shifting to new topics among those who have gathered to worry about Shizuku.
The fact that she had a light-hearted confrontation with her homeroom teacher, Onodera-sensei, a few minutes ago was already a thing of the past.
But it was a fact that there was an altercation.
—But what about the others?
—What did the other classmates think when they saw that?
There are a total of 32 people in Class 2-2. Now, the five of us there were often regarded as the de facto central figures of this class, but that was not all.
That conceit was unacceptable.
Shizuku created chaos in homeroom on the first day of uniform change.
We are all feeling refreshed on our own after the seeding was done among our peers, but that fact was never shared within the class.
There are twenty-seven other students in this class.
Many of them still have question marks above their heads. And each of them was subtly curious about the content of our conversation and was peeking at us.
I didn't miss the dozens of gazes that have been directed at us since a few minutes ago, clearly more intense than usual.
The way they do it was different for each person. Some of them were talking with their friends and glanced at us from time to time, some were lying on their desks and pretending to be asleep while trying to casually eavesdrop on our conversation, and some were staring at us with hostility and dissatisfaction.
However, that was not all. There were those who were absent today due to illness, there were the regular tardies who would probably come to school later, and there was even one student who was not attending school.
And of course — there were those who don't care about us at all.
Then, who was it that Ryosuke was glancing at earlier?
(…Probably somewhere I'm not expecting)
I was amused. Who was it that Ryosuke was looking at—?
"Wait, wait a minute…Akino! Say that again!"
"Yeah, the thing—I got it. Here."
"Did you get the limited edition Lavacha of Rindou-kun!? S-S-Seriously!?"
"Over here we have Ibara-kun, Kaede-kun, and then one Ouma-kun…Oh, and in case you're wondering, I have five Kusunoki! Which one would you like?"
"Haha! I'll be very grateful for it! Over here we have Ibara-kun, Kaede-kun, and then one Ouma-kun…Oh, and in case you're wondering, I have five Kusunoki! Which one would you like?"
"Wait…five Kusunoki is too much bad luck, Hatori!"
"Well…"
"I would have already thrown them away."
"No, if you say that…I'll kill you, okay?"
"I don't need that!"
"I-I don't have a choice! I say that, but I think I'll cry if I pull another one!"
"Hatori, Kusunoki loves you, right?"
"No, no more. It's not funny…"
"That serious expression, just makes me laugh. Well, I don't want Kusunoki or any other free stuff either. Well, I don't have a choice, so I'll show mercy to the poor lamb, yea?"
"Heh!? Wait…A…S-Second, you mean you'll give it to me for free!?"
"Yeah, I don't want Ibara and I don't want Kaede. I don't want Kusunoki even more."
"Ah, you're a God…!"
"Right?"
"God! God!"
"I'd rather have Jojo than Death note!"
"You risked your life! I respect you!"
"…No, it's more like 'I'm fascinated by you!' Right?"
"But I like this one better…
"…Haaa. Hatori is just like that thing."
—The reason was that it was the "otaku girl group" who, in a sense, were even enjoying school life the most in this class.
"…"
I think they were speaking Japanese, but their way of speaking was so peculiar that I could not understand them at all.
From the mention of a few specific manga names, I would guess that they are conversing using wordplay.
However, I was not sure if it was really being used appropriately, but I'm inclined to think it was…Well, that's the way it was, I suppose.
Perhaps.
(Am I seeing things right…?)
But the question now was…why Ryosuke was glancing at these girls who have such a unique style?
Ryosuke was supposed to be a man who has no interest in anything but dancing and shooters.
This was one of the reasons why, despite his position in the dance club, good looks, and athletic specs, there were no rumors about him with any girls. We were in the same class last year, and I never even heard that this guy had a crush on anyone.
I think there were many girls who liked Ryosuke. But none of those girls ever expressed their feelings for Ryosuke…The reason for this is another story.
"…hmm."
I took my gaze away from the girls and checked Ryosuke's expression.
—The doubt turned into a certainty.
Strangely busy, but with eyes full of interest and concern. A restless mouth.
Ryosuke was not just looking at them.
He was clearly following the words and actions of one of them. There were four female students belonging to that group. If that was the case, then the person Ryosuke was interested in must be one of them.
I muttered to myself.
Only Kanade, who was standing next to me, tilted her head and asked me in a whisper.
"Hibiki, is something wrong?"
"Ah no…A little bit."
"Hmmm."
Kanade gave a simple response. "—Your face looks scary."
"…Sorry. I let it show on my face."
'It's not so much that it was showing up. I just know because I know you."
"I see."
"We've been dating a long time. Let me know if you need any help."
"Yeah. I'll ask for your help if I need it."
I bowed my head.
—I was so happy to see my best friend, who had never talked to me about anything about love before, show such a suggestive attitude.
Normally…I would have laughed at this moment.
But what about me now?
I'm not smiling or beaming — it was a serious face. If my current guess was in the wrong direction, then there was no doubt that there would be a lot of trouble ahead.
Comments for chapter "Chapter 1 Part 2"
NOVEL DISCUSSION